Tuesday, 8 December 2020
Promotion Team, Cadiz, Reached their Fifth Position in LaLiga Standings and defeated Madrid and Barca
By db-admin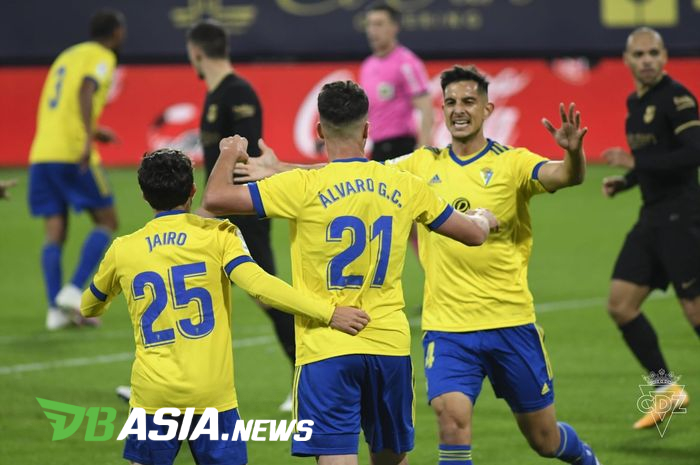 DBasia.news – At the start of the 2020-21 season Cadiz was in the spotlight. As the promotion club was able to climb to fifth place in the LaLiga standings and even beat Spanish giants, Real Madrid and Barcelona.
Remarkably, the journey to the fifth ladder was marked by overthrowing two Spanish giants, Real Madrid and Barcelona.
At the start of the season, Alvaro Cervera's team immediately presented a surprise after picking up an away win against defending champions, Real Madrid. Sunday (6/12) WIB, it was Barcelona's turn to become victims.
What made Cadiz's achievement in smothering the two LaLiga giants so interesting is the game they carried. In these two matches, Cadiz allowed the dominant opponent to control the ball.
When defeating Madrid, Cadiz only controlled the ball less than 25%. Meanwhile, when overthrowing Barcelona, Cervera's team only controlled the ball by 17%. But in these two matches, Cadiz was able to maximize the opportunities they received.
"I do not feel proud. I want the team to fight against Real Madrid and Barcelona," Cervera said regarding the tactics he used against the two LaLiga giants, as quoted by Marca.
"My mission is to make sure Cadiz survives. Incidentally in the match, the defending was good, we won. I know we have to defend. We have to stop them getting into the penalty box easily. That's all," Cervera stated after his teamdefeated Barcelona.
Even so, Cervera denied that his team was a follower of negative football. According to him, Barcelona and Madrid's games forced his team to play defensively. On the other hand, Cervera realized that solid defense is a powerful weapon for his troops.
"If we do what we know to do, which is defending, we'll be fine. But this is how we stay in the league."