Wednesday, 20 November 2019
The scent of Brazil in the Italian national team, Gli Azzurri Party Goal against Armenia
By db-admin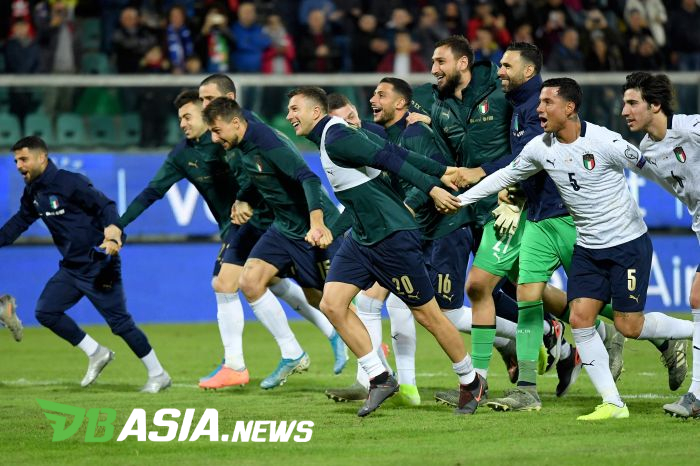 DBasia.news –  Jorginho admitted there was a Brazilian scent in the Italian national team after the 9-1 victory over Armenia. "We want to keep entertaining the crowd," Jorginho told Football-Italy. Italy is not only aggressively attacking, but strong in defense.
Italy won a landslide victory 9-1 against Armenia in the continuation of the European Cup Group J Qualifying match 2020, Tuesday (11/19) early morning hrs, at Renzo Barbera. The nine Italian scorers are Ciro Immobile (8 ', 33'), Nicolo Zaniolo (9 ', 64'), Nicolo Barella (29 '), Alessio Romagnoli (72'), Jorginho (75 'penalty), Riccardo Orsolini (77' '), and Federico Chiesa (81').
Italy had already secured a place in the 2020 European Cup. However, they still maintained a record of never losing in group J phase and wiped out 10 matches with a win. Italy also has a record of 37 goals, conceded four goals, and a goal difference of 33.
Italy's current performance is seen by Jorginho as entertaining as Brazil. Jorginho, who has Brazilian blood in him, thinks Italy is enjoying the game carried by Roberto Mancini.
"Maybe there is a little Brazilian play in this Italian team! We have an offensive, positive approach, we can survive, but even with respect to our opponents, we want to enjoy our football and entertain the spectators who come to the stadium to see us," Jorginho said to Rai Sport.
Judging from Italy's appearance, it is natural that Italy will become the favorite team for the 2020 European Cup champions. However, Jorginho doesn't want to think too much about it, because there are still many challenges that Italy will face.
"We are preparing for the most important test against the big teams. We are working to improve areas that are weak points and maximize the strongest elements in our game. I think we can achieve some great things together," added Jorginho.
"It is important for all of us to get experience because we have a young squad and there is still much to learn, you can only learn such things by playing at a high level. So we have to continue like this and hope to learn from big challenges. who will come," he explained.