Sunday, 22 November 2020
Youssoufa Moukoko, 16 Year Old Player Who Will Make His Debut in the BundesLiga
By db-admin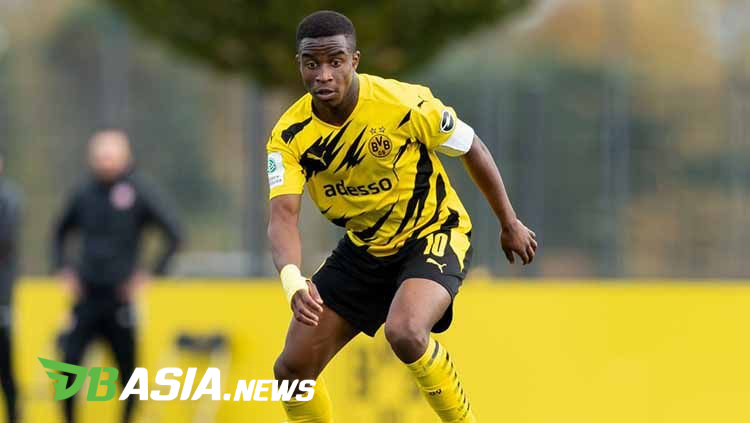 DBasia.news – Youssoufa Moukoko is ready to make history. The 16-year-old Borussia Dortmund player will soon make his Bundesliga debut. Not a few hope that Moukoko will make his debut when Dortmund travel to Hertha Berlin headquarters, Sunday (22/11).
Moukoko's name began to skyrocket when he listed himself as the youngest goalscorer in the history of the UEFA Youth League. At that time he was only 14 years old. He broke the record belonging to Youri Regeer (Ajax Amsterdam) who scored a goal at the age of 16 years 30 days.
Moukoko has been called a wunderkind or a magic boy after scoring 90 goals in 56 matches with Dortmund U-17. This achievement made Moukoko promoted to the Dortmund U-19 team even though he was only 14 years old. At this level, Moukoko's goal flow did not stop. He was able to pack 34 goals from 20 appearances. Moukoko's career is indeed extraordinary. When he was 12 years old, he already played for Dortmund U-16.
Moukoko's achievement managed to steal the attention of German national team coach Joachim Low. "I have often spoken with Michael Skibbe (Dortmund U-19 coach). Everyone involved has worked well, they are waiting and letting Moukoko develop calmly," Low said as quoted on the official Bundesliga website.
Moukoko is now a phenomenal talent. Because of this phenomenal, the Bundesliga finally decided to change the minimum age rule. Previously, players had to be 16 and a half years old to be eligible for the Bundesliga. But Moukoko's appearance made the Bundesliga lower the age limit to 16 years.
Now, Moukoko is 16 years old, that's why many expect him to appear in the match against Hertha. It is certain that Moukoko will set a record as the youngest player to debut in the Bundesliga. The previous record was recorded by Nuri Sahin, who debuted at the age of 16 years, 11 months, one day in 2005.
Moukoko was born and raised in Cameroon with his grandparents. Since the beginning, Moukoko has loved football. When he was 10 years old, he moved to Germany to follow his father, Joseph, in 2014. He was then taken by St Pauli U-15 at the age of 11 before going to Dortmund.
Being more prominent than other players who are four years older makes Moukoko's age doubtful. However, his father denied that assumption. "Shortly after birth, I immediately registered him with the German consulate in Yaonde. We have a German birth certificate," explained the father.
Now Moukoko still has to prove himself on the highest stage. Yes, he still proves that what is being predicted is true. A burden that is not light for a 16 year old player.
The burden is getting bigger because its popularity has recently shot up. The popularity that made him signed by Nike for 10 years.
Of course Moukoko realized all of that. He must go through all the trials and obstacles in order to fulfill his big dream. "My goal is to become a professional player at Dortmund, win the Champions League and win the Ballon d'Or."