Tuesday, 14 January 2020
Breaking Roma's goal, Ronaldo is included in the Juventus History Book
By db-admin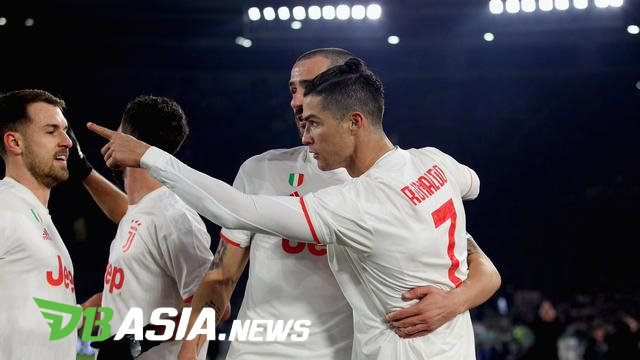 DBasia.news –  Juventus begin in 2020 by winning the Week 19 Serie A match against AS Roma with a final score of 2-1. Cristiano Ronaldo, who also contributed one goal, made him successfully break down the entire Serie A team's goal.
Juventus successfully won an important victory in the matchday 19 Serie A on Monday (1/13/2020). I Bianconeri won 2-1 over AS Roma. Cristiano Ronaldo also contributed a goal.
Playing at the Stadio Olimpico in Week 19 of Serie A, Monday (01/13) early morning Western Indonesian Time, Juventus won 2-1 from a Merih Demiral goal (3′) and a Cristiano Ronaldo penalty (10′) which was reduced by Diego Perotti's penalty in the 68th minute. Again, Ronaldo broke the record.
According to statistics raised by FutbolBible, the Portugal national team captain has broken all of the Serie A teams' goals, a fantastic achievement, given that Ronaldo has only played for one and a half seasons for Juventus from Real Madrid.
Ronaldo moved from Madrid to Juventus in 2018 with a tag of more than 100 million euros. He left Santiago Bernabeu with legendary status and is now making history with Maurizio Sarri's team.
Nobody starts 2020 individually as good as Ronaldo. According to additional statistics from @OptaPaolo, Ronaldo has scored nine goals in Serie A since early December 2019. No players in the top five European leagues have done so.
Also, Ronaldo is sticking tight to the record of Juventus legend, John Hansen, in the category of Juventus players who scored at least 14 goals in the first 19 Serie A matches for – at least – two different seasons. Hansen did it in 1950-51, 1951-52 and 1952-53, while Ronaldo was in the 2018-19 and 2019-20 seasons.
Maurizio Sarri could have rested him in the next match in the last 16 round of the Coppa Italia against Udinese on Thursday (16/01) early morning Western Indonesian Time, and only played it again in Week 20 of Serie A against Parma at the Allianz Stadium on Monday (01/20) at 02.45 early morning Western Indonesian Time.