Saturday, 17 October 2020
Dominic Calvert-Lewin Has Two Figures behind His Good Performance
By db-admin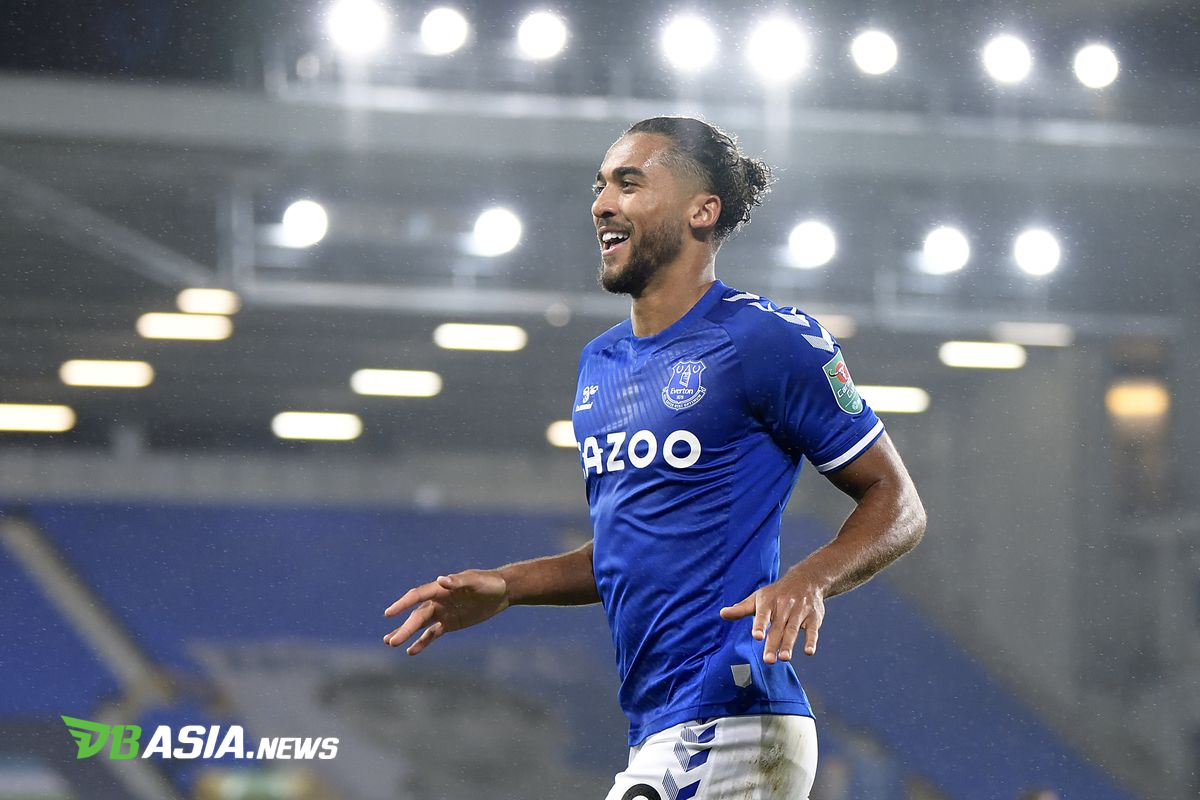 DBasia.news – Dominic Calvert-Lewin's revival is still going on. The Everton attacker performed brilliantly at the start of the 2020-21 season with 10 goals, two hat-tricks, taking the club to the top of the Premier League, the player of the month, the national team's first call-up, England and one goal on his international debut in just five weeks.
At the weekend, the 23-year-old player will try to add to his list of successes. Liverpool, the reigning champions, are in the sights. Calvert-Lewin will certainly want to lead Everton to their first Merseyside derby win in a decade.
With the attacker's streaking performance, Carlo Ancelotti's team will definitely want to continue their fine form. Moreover, Liverpool's defense has been in bad shape lately. Calvert-Lewin has appeared in six appearances this season for Everton, five of which he has scored.
Carlo Ancelotti called him a complete striker, while David Unsworth, Everton's academy director, described him as the perfect No.9. For both, Calvert-Lewin should be able to aim for 20 goals this season and every season after that.
It was Unsworth who was instrumental in bringing Calvert-Lewin to Everton in 2016, having seen him at Sheffield United's academy four years earlier.
Calvert-Lewin was raised at Hillsborough, Sheffield Wednesday's headquarters, but he was always a Sheffield United supporter. He joined Sheffield United at the age of nine, developing steadily at each age level, but not as a striker.
"He's a midfielder, box-to-box," said Keith Briggs, Calvert-Lewin's coach at Under-16 level, and later his manager at senior level.
"Nick Cox was the academy manager at the time, and Travis Binnion was the Under-23 coach. Travis who decided to try it as a striker. He has good technique and is very athletic," said Briggs.
In 2016, Calvert-Lewin joined Everton. There has been a lot of upheaval since then. In four years, Calvert-Lewin has played under six different managers. He featured regularly under Ronald Koeman, Sam Allardyce, and Marco Silva. But when Everton was briefly managed by Duncan 'Big Dunc' Ferguson in December last year its development took a hit.
"He said, you will be my man up front. You will play. It was the first time I was given the responsibility and felt like a real No.9," said Calvert-Lewin.
"It gives me encouragement. It's time for me. "
Calvert-Lewin scored twice in Ferguson's first game in a 3-1 win over Chelsea. Calvert-Lewin's form continued to develop under Ancelotti, who was appointed two weeks later. Ferguson himself remained as assistant manager.
For the record, since that Chelsea match, only Mohamed Salah, who will be this weekend's opponent, has scored more Premier League goals than Calvert-Lewin.
The Liverpool legend believes that the speed of Calvert-Lewin's performance cannot be separated from Ferguson's touch. "I think he's risen to a level where a lot of people don't think he's capable of doing it. Many people he is a little one dimensional."
"But I think Duncan risked it."
To Calvert-Lewin, Ferguson gave input that for a striker with physical attributes like him to be the center, between two center-backs, it is always a distraction and Calvert-Lewin agreed with Big Dunc's input.
"The first criticism (Ferguson) is, you have to stay central. It's like music to my ears because my entire career has been asked to move from the wing," said Calvert-Lewin.
"There are various ways to be a focal point and I know what he means. My role in the team is to score goals and be sure to be in a position to score. I wouldn't score if I was near the flag in the corner."
Playing more centrally, Calvert-Lewin thrived. Ferguson's whisper was followed by Ancelotti, who encouraged him to study Filippo Inzaghi. "He scored 300 goals, and 210 of them with one touch," said the Everton boss.
That advice seems to be working. Of Calvert-Lewin's 10 goals for club and England this season, nine have ended with one touch.
"There are some great strikers in the Premier League, but Calvert-Lewin offers something different," said Molby, who admitted Liverpool would be wary of his threat this weekend.