Monday, 2 December 2019
European Cup 2020 draw: Hell Group in Group F
By db-admin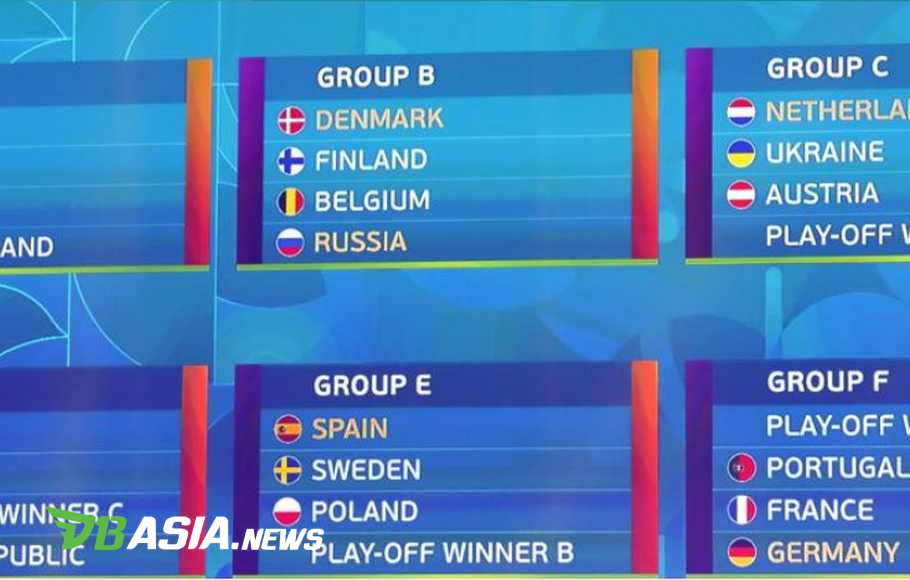 DBasia.news –  Germany, France and Portugal are in Group F of the 2020 European Cup group through the results of the draw held at Bukarest.
European Cup 2020 is held in different ways. UEFA as the organizer appointed 12 countries as host, namely Italy, the Netherlands, Britain, Spain, Denmark, Hungary, Germany, Russia, Azerbaijan, Republic of Ireland, Romania and Scotland.
Interestingly, from the 12 countries, only seven teams have confirmed to qualify for the 2020 European Cup finals. The remaining four teams that will still go through the playoffs are Scotland, the Republic of Ireland, Romania and Hungary. The plan, the match will take place in March 2020.
Indeed, from the distribution of the draw pots, several teams will be seen tackling each other. This is possible as the home teams have been placed first in the group.
Based on the draw results, the heaviest group is in Group F. Portugal, France, and Germany will certainly go head to head with the winner of the playoffs A.
Strong champions, Italy, occupy Group A with Turkey, Wales and Switzerland. Meanwhile, Belgium entered Group B to complete three other teams namely Denmark, Finland and Russia.
England have a great chance of qualifying for the knockout stages as they are with a relatively weaker team namely Croatia and the Czech Republic in Group D. One other place will belong to the C. playoff winners.
Meanwhile, Spain is in Group E. David de Gea and his colleagues will play Sweden, Poland, and the winner of the playoff B.
The crownless champion, the Netherlands, is part of Group C. The Windmill Country will compete with Ukraine, Austria and winners of the Group D. playoffs.
The plan, the 2020 European Cup will begin on June 12, 2020. Meanwhile, the final party will take place at Wembley Stadium, London, July 12, 2020.
The format of the European Cup this time is also different. In addition to making 12 countries the host, participants of the play-offs are also not the final results in group qualifications, but through their performance in the new event made by UEFA, the UEFA Nations League.
Divided into four AD lines, the 16 countries are: Iceland, Bulgaria, Israel, Hungary, Romania, Bosnia-Herzegovina, Slovakia, Republic of Ireland, Northern Ireland, Scotland, Norway, Serbia, Georgia, Northern Macedonia, Kosovo and Belarus.
The winner of the match will also not go directly to the group phase as later there will also be a semifinal and final phase in the play-off (match schedule attached at the end of the article).
The following are the results of the 2020 European Cup group round:
Group A: Turkey, Italy (host), Wales, Switzerland
Group B: Denmark (host), Finland, Belgium, Russia (host)
Group C: Netherlands (host), Ukraine, Austria, winner of play-off track D
Group D: England (host), Croatia, winner of play-off lane C, Czech Republic
Group E: Spain (host), Sweden, Poland, winners of the B line play-offs
Group F: winner of the A-play play-offs, Portugal, France, Germany (host)
Schedule of play-offs from A-D:
Path A
Semifinal 1: Iceland vs Romania (03/26/2020)
Semifinal 2: Bulgaria vs Hungary (03/26/2020)
Final: (3/31/2020)
Path B
Semifinal 1: Bosnia-Herzegovina vs Northern Ireland (3/26/2020)
Semifinal 2: Slovakia vs Ireland (03/26/2020)
Final: (3/31/2020)
Path C
Semifinal 1: Scotland vs Israel (03/26/2020)
Semifinal 2: Norway vs Serbia (03/26/2020)
Final: (3/31/2020)
Path D
Semifinal 1: Georgia vs Belarus (03/26/2020)
Semifinal 2: Northern Macedonia vs Kosovo (3/26/2020)
Final: (3/31/2020)