Thursday, 26 July 2018
Germany Small Club Give Jersey for Free
By news-admin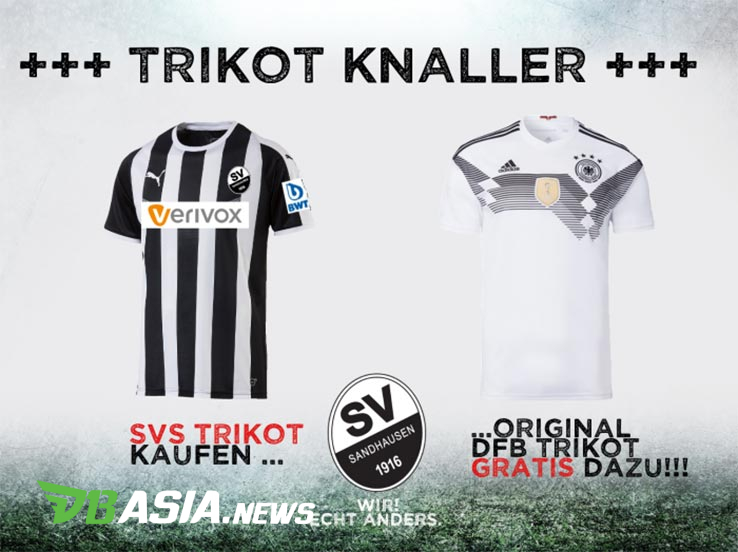 DBasia.news – Bundesliga 2 club, SV Saundhausen, have the unique way to promote their newest jersey. They give the home jersey of Germany national team for every purchase.
SV Saundhausen newest jersey was produced by Germany apparel, Puma. It's black and white.
However, the selling of their newest jersey isn't so good. So, SV Saundhause decides to give Germany national team jersey for free.
Last weekend, SV Sandhausen announced they gave a limited offer for the fans. Everyone who purchases SV Saundhausen jersey will get the Germany national team jersey as the bonus.
In fact, SV Saundhausen jersey is sold in relatively affordable price, around 60 euro (Rp1 million).
However, there was a unique story behind the promotion. SV Saundhausen's social movement was inspired by Germany national team sadness.
The story started from the 2018 World Cup when the Germany national team came as the defending champion. Germany people expected their country to keep the title.
The situation made SV Saundhausen ordered 500 Germany national team jerseys from DFB, to get the profit.
But in fact, Germany national team had to leave early during the group qualification. As a result, from 500 jerseys the selling was only 60.
Finally, SV Saundhausen used the Germany national team jersey to boost the selling of their home jersey. It seems effective, though.