Saturday, 12 October 2019
Successfully defeating Northern Ireland, De Oranje dashed to the top of the Standings
By db-admin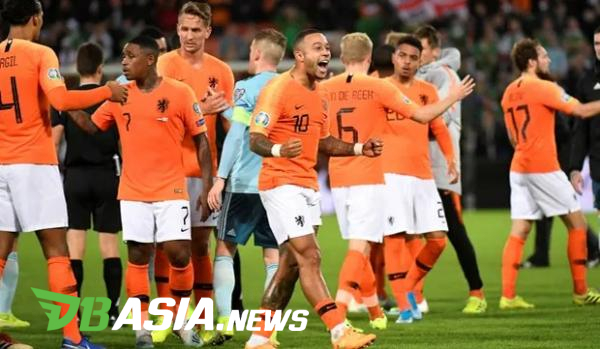 DBasia.news –  The results of the match between the Netherlands vs Northern Ireland ended with a 3-1 win in Group C match European Cup Qualification 2020 at Feijenoord Stadium, Friday morning (11/10/2019). Starting, goalkeeper Jasper Cillessen who had uprooted first by the Hull City striker.
Oranje managed to win through come back in the final minutes of the match with a final score of 3-1. Each was scored by Memphis Depay's two goals in 81 and 90 + 4 minutes, and one additional Frenkie de Jong goal in 90 + 1 minutes. Meanwhile, Northern Ireland was only able to score one goal from Josh Magennis in the 75th minute.
Throughout the match, the Netherlands had more control over the game with 74% possession and a total of 15 shots on goal. Meanwhile, Northern Ireland was only able to release 2 shots, one of which was a goal.
Green & White Army was superior first through Josh Magennis scored in the 75th minute. Magennis's goal that made Northern Ireland 1-0 up had a chance to make the host panic.
However, Memphis Depay emerged as an Oranje hero. The 81st minute, the Olympique Lyon striker managed to equalize through his strike that entered the goalkeeper Northern Ireland escort Peacock-Farrell.
Dramatically, the Netherlands managed to reverse the position at the last minute. Injury time for 4 minutes is used by them. Two goals each from Frenkie de Jong in the 90 + 1 minute and another goal from Memphis Depay in the 90 + 4 minute managed to solidify three points for Oranje.
With this result, the Netherlands rose to first place in Group C of the 2020 European Cup Qualifiers with 12 points. Interestingly, in Group C, three teams collect 12 points, including the Netherlands, Germany and Northern Ireland. However, the Netherlands is superior in terms of goal aggressiveness and head to head.