Sunday, 28 June 2020
Liverpool Premier League 2019-20 Champion, Fans Celebrates amid COVID-19 Pandemic
By db-admin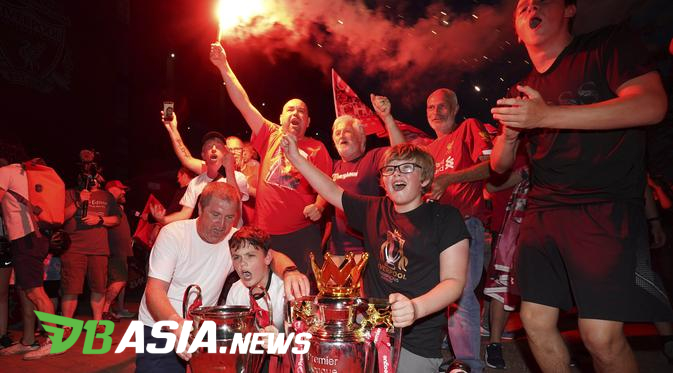 DBasia.news – Liverpool are confirmed to be the 2019-20 Premier League champion who still have seven matches left. This became the first Premier League title for The Reds since their last winning in 1990 (30 years ago) or still in the old Division One format.
Liverpool ensured the Premier League title without needing to compete in Week 31st because Manchester City, their closest rival, lost 1-2 against Chelsea at Stamford Bridge on Friday (6/26) from Christian Pulisic's goal and Willian's penalty replied by Kevin De Bruyne.
Both are 23 points apart and that distance can no longer be passed by Man City under Pep Guardiola in the remaining seven matches. Liverpool also won and followed their previous successes when they won the Champions League, European Super Cup, and Club World Cup.
"Listen we cannot win the title, but we cannot deny this is a difficult week. Congratulations to Liverpool they have won it (Premier League)," said Pep Guardiola congratulated Liverpool.
86 points from 31 matches with 28 wins, two draws, and one defeat plus a record of 70 goals and 21 goals conceded. So many records have been broken by Liverpool this season, including the record of never losing at Anfield.
30 years is not a short time. No wonder if Liverpool fans immediately poured out on the streets of Liverpool, turning on flares at Anfield, and ignoring the rules of social distancing and lockdown of the corona virus in England.
"This is incredibly great, especially for them (Liverpool). We have been waiting 30 years for that (Premier League trophy)," said Anthony Nesbitt's mother, a mom to a six-year-old boy who is a Liverpool fan.
Nesbit with his father, Anthony, and his mother Marilyn and his brother Georgie were also at Anfield to celebrate the Premier League title of Liverpool.
According to Mirror's record there were 2,000 fans gathered around Anfield wearing masks, scarves, lighting flares, and singing. Not to forget the replica of the Premier League trophy was also brought by fans who dissolved together in happiness.
The appeal of Jurgen Klopp to them was ignored. But this is understandable if you see how long they are waiting for the title.
"This is for you (fans) out there. I hope you stay home. Celebrate in front of your house," Klopp said.