Saturday, 28 March 2020
Reason Why Alisson Deserves to be Called the World's Best Goalkeeper
By db-admin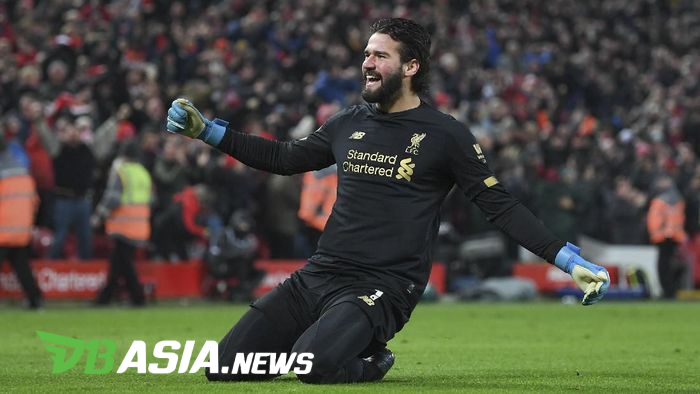 DBasia.news –  Liverpool's success last season was respectively because of the goalkeeper's top performance, Alisson. He has a series of abilities that make him worthy of being called the world's best goalkeeper.
Alisson was bought from AS Roma for 72 million euros in the summer of 2018, which was a transfer record for a goalkeeper. The expensive price was redeemed by the Brazilian goalkeeper with a charming performance after only conceding 47 goals in 79 appearances.
The 27 years old goalkeeper successfully recorded a total of 39 clean sheets that helped Liverpool win the 2018/19 Champions League, and finished runner-up in the Premier League with the least defeats.
As a result, Alisson was rewarded with several awards including the Premier League Gold Glove and the Yashin trophy, the best goalkeeper title in the world presented by France Football last December.
Liverpool goalkeeping coach John Achterberg feels Alisson deserves to be considered the best goalkeeper in the world today. Alisson has a number of qualities of a great goalkeepers.
"One of the great advantages is staying calm in high-pressure moments and making what seems natural, easy decisions, but really not easy because you always need perfect solutions and decisions. That is the quality he has," said Achterberg at the official Liverpool website.
"Some of the goalkeeper's reactions are based on instinct, that's for sure. That can be a decision that has to be taken very quickly, but the main thing in your mind is to always be in an attacking position. Never think other people will reach the ball faster than you, for example."
"If the situation is 50/50 or 60/40, am I fast enough to be there to win the ball? That's a mindset, but also a quality that he has, because he has the speed and reacts to it. This is a combination of everything at this time," he said.