Sunday, 2 February 2020
Records that Liverpool can Achieve
By db-admin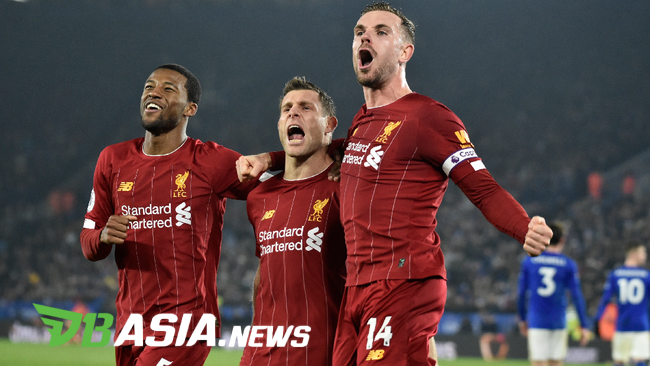 DBasia.news –  The 2019-20 season was a great period for Liverpool. Seen from the achievement of Jurgen Klopp's team that managed to break several records.
Liverpool have experienced title fasting since 1990 and are determined to end it this season. As a bonus, various records awaits to be achieved by Mohamed Salah and colleagues.
Here are 10 Premier League records that Liverpool can achieve this season:
1. The longest unbeatable record
In 1894 Liverpool had an unbeaten record of 37 matches. In the 2019-20 season Liverpool managed to break the club record with 38 unbeaten matches. Now they are eyeing Arsenal's 49-match unbeaten run.
2. Most Record Points
The previous record was held by Manchester City with 102 points in the 2017-18 season. Currently Liverpool have won 70 points or needs 30 more points to reach 100. If they can win all the remaining matches, Liverpool will pack 112 points, a new record in the Premier League.
3. Home Record points
Throughout the Premier League, there are three undefeated clubs with only one draw at home, Chelsea in 2005-06, Manchester United 2010-11, and Manchester City 2011-12. All three have recorded 55 points at home.
This season Liverpool has carved perfect records at home. They have always won in 12 home games with 36 points. If they win all the remaining home games, Liverpool will be the holder of the Premier League home record points.
4. Away record points
In the 2017-18 season, Man City managed to collect 50 points from the opponent's headquarters. Man City suffered one defeat and two draws away.
Currently Liverpool have collected 34 points when away. Of the 12 away games, Liverpool has only once failed to win while being held by Manchester United. This means that if Liverpool only loses once and draws in the remaining games, they are guaranteed to pass the record points owned by City.
5. Most wins record
The record for most wins in the Premier League in a season still belongs to Man City, which they carved for two consecutive seasons in the Guardiola era with 32 wins.
This season, Liverpool have recorded 23 wins from 24 matches that have been undertaken. Liverpool need ten more wins to break City's record.
6. Home and Away Victory Records
The most Premier League home record wins are currently held with Chelsea, Man Utd, and Man City with 18 wins.
Liverpool can break the record on condition that they win all the remaining home games.
While the away win record is still held by Man City with 16 wins. Liverpool will surpass the record if they win all the remaining away games.
7. Winning streak record
Liverpool almost matched their 18-game winning streak in a season in the Premier League held by City. But Liverpool's efforts failed after being held to a 1-1 draw by Man Utd.
Currently Liverpool has another chance. After a 1-1 draw with United, Liverpool have packed 15 consecutive wins. The Reds only need four wins to break City's record.
8. Home Win Records
Currently Liverpool have recorded 19 consecutive wins in the Premier League. If they can defeat Southampton in the next match, Liverpool will equal the record of consecutive home wins recorded by Man City in 2012. Liverpool will break the record if they win when they host West Ham on February 24.
9. Champion Record with Widest Point Difference
The previous record was obtained by Manchester City with a difference of 19 points over Manchester United in the 2017-18 season. But this season Liverpool have a great chance to break the record. At the moment the Reds have 19 points behind Manchester City who are in second.
10. Fastest Record to Ensure Champion Title
Liverpool will win the record held by Manchester United in 1990. If the Reds can maintain their good performance, Jurgen Klopp's team is believed to be able to break the record by ensuring the title on April 11, 2020.
Liverpool also has the opportunity to break other records, namely the 106 goals record in a season owned by City.