Saturday, 5 December 2020
The Story Behind Olivier Giroud's Glorious Performance
By db-admin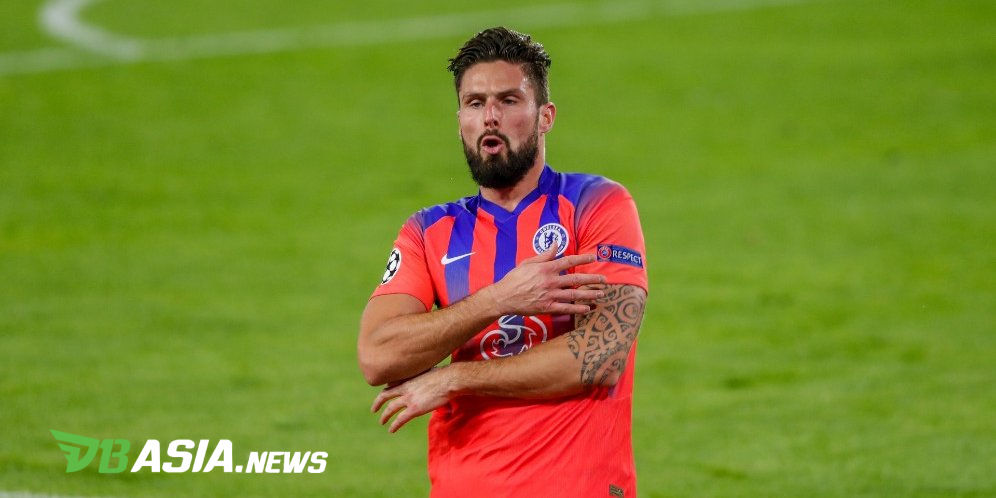 DBasia.news – Olivier Giroud's name stuck out after scoring a quat-trick (four goals) in one match. It takes more than just quality and experience to do so, luck was also carved into it.
Whether it's good positioning, loose opponent defense, or teammates who supply the ball well. All of these elements came together as the 'marginalized' Chelsea striker, Olivier Giroud scored a hat-trick.
The story begins when Chelsea played at Ramon Sanchez Pizjuan, the headquarters of Sevilla which is known to be haunted by visiting opponents. Both Chelsea and Sevilla have safely qualified for the top 16 of the Champions League.
The second match was nothing more than the struggle for the top position of Group E. Frank Lampard with the luxury of rotating with the quantity of the Chelsea squad overhauling his players.
Giroud played with Christian Pulisic, Callum Hudson-Odoi, Antonio Rudiger and Emerson in the Chelsea lineup. With Giroud playing that means Lampard plays the attacker's third option after Timo Werner and Tammy Abraham.
The third choice striker is not just any attacker. The 34-year-old bomber is a 2018 World Cup champion and has a lot of experience playing in Europe.
Giroud proved with a score of four goals in the 8th minute, 54th, 74th, and a penalty in the 83rd minute. Three goals through open play and one from a penalty. Giroud scored various records from his four goals.
Giroud became the oldest player in the Champions League format to score a hat-trick at the age of 34, then he became the second player from France after Karim Benzema to score a hat-trick, and became the second Chelsea player to score a hat-trick after Frank Lampard in 2010.
"Let me enjoy the night and this big win," Giroud told BT Sport, "And after that we will rest and we will see what the manager plans."
"When you win 4-0 away in the Champions League, it's always a great feeling and a good performance from the team. We took the game from the start and we were efficient up front, especially for me because I scored four goals."
"I will try to continue to finish the team's good job and it is always nice to be in the history of the club and we play football to mark our history, so I am glad to help the team to win and score four goals."
Let Giroud enjoy it because he deservee it. Giroud is not the first choice at Chelsea, marginalized by many transfer rumors, was advised to leave because he rarely plays, and is considered to have been 'finished'.
Underrated striker
"Giroud has been a fantastic server for all the clubs (he has played for). He has become one of the best foreign import players to come to the club. I like Olivier Giroud and I think Frank Lampard said it, he believes in him."
"Lampard is thrilled with him. I want him to stay at the football club. He is the second highest goalscorer for France. He is a gret asset for both club and country. So Frank has told him how he feels and how he needs him."
This was told by Tony Cascarino, a former Chelsea striker, to TalkSPORT. Giroud is indeed not the first choice at Chelsea at his age and Lampard has prioritized Werner and Abraham.
Giroud has also considered his future last month as he rarely plays. But Giroud's professional side says differently: Giroud continues to work hard in training and sets an example for young players.
The message from Giroud's performance is to continue to work hard, maintain professionalism, not complain much when situations are impartial, and not waste opportunities when given. Frank Lampard was amazed by Giroud's attitude.
"He (Giroud) is the best professional," said Lampard praising Giroud as quoted by Reuters.
"He is not always a regular player but his performance shows that he is a great example for young players to continue to train well. What a performance, scoring four goals in the Champions League is a fantastic achievement. It was a complete performance and I'm happy for him. "
Former Chelsea and Arsenal player, Francesc Fabregas also agreed with Lampard in seeing Giroud as a true professional.
"You really are a professional. All young players should have you as their main role model. Once again you were fantastic. And people still wonder why you always play in the end! Hard work, passion, dedication and real character to always turn things around, "stated Fabregas.
Judging from his performance, Sevilla is a reminder that Olivier Giroud is indeed an underrated striker (rarely highlighted) among Europe's top strikers. The public forgets that Giroud has a successful past.
World Champion and Successful at Club Level
If the success of winning the 2018 World Cup title with France was won two years ago (still fresh in memory), then winning the FA Cup with Arsenal for six years there, then you have to look back on mid-2010-2012.
At that time Giroud was not well known and popularized his own name by bringing Montpellier – a non-seeded team – to the 2011-2012 Ligue 1 champions. Giroud became the top scorer with 21 goals and nine assists.
From then on the path was open to the highest level until Giroud playing at Arsenal (2012-2018) before moving to Chelsea. With France Giroud is also often considered the second best striker after Karim Benzema.
However, Giroud never responded to news regarding him excessively, it is enough to work hard and prove it in the match.
Seeing his great performance with Chelsea against Sevilla, does the Blues still want Giroud to leave? One thing is certain: European clubs will continue to monitor him if at any time Giroud wants to leave due to lack of playing time.