Thursday, 24 September 2020
Alvaro Gonzalez Being Accused of Racist Acts, Marseille Deny Neymar's Accusation
By db-admin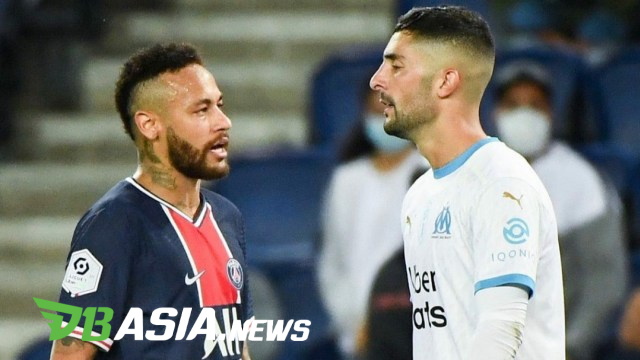 DBasia.news – Olympique Marseille's management has denied accusations that Paris Saint Germain striker Neymar said that Alvaro Gonzalez had committed racist acts against him. The accusation of the Brazilian striker originated from a dispute that occurred when Olympique Marseille faced Paris Saint Germain in the 2020-2021 Ligue 1 season.
The Marseille vs PSG duel can be said to be like Real Madrid vs Barcelona in Spain. In fact, the Marseille match against PSG also received the title of Classic Match. There is always a story that appears every time the two teams meet. This time it rained 11 yellow cards and five red cards to color Marseille's 1-0 victory. Neymar's accusation was added that Gonzalez said racist words to him during the match.
Neymar admitted that he was annoyed at being called a 'damn monkey' by Gonzalez, so he responded by slapping the Spanish player's back in the head. Neymar was caught so he was red carded. Marseille denied this accusation by Neymar.
"This victory was obtained in a fair manner, played on the pitch thanks to the commitment and dedication of the players, who were able to implement the strategy and game plan correctly," said the club's official statement on Wednesday (23/9).
Responding to Neymar's statement, Marseille claimed that this immoral act had never been carried out by the players and the club's technical staff.
"Gonzalez is not racist, as he has shown through his day-to-day behavior since joining the club, and as his team-mates have confirmed. The club remains within the discretion of the disciplinary committee to fully cooperate in the investigation of all events that occurred in the match," continued the statement.
Furthermore, Marseille condemned the spread of the Spanish center-back's phone number. This is because in the last few days Alvaro Gonzalez received statements of discrimination and death threats to his family.
"Olympique Marseille is a symbol of anti-racism in French professional sport, given its history and the City of Marseille, whose diversity stands firm in the relentless struggle against racism," the statement concluded.