Wednesday, 17 February 2021
Andrea Pirlo Doesn't Accept Juventus' defeat over Napoli
By db-admin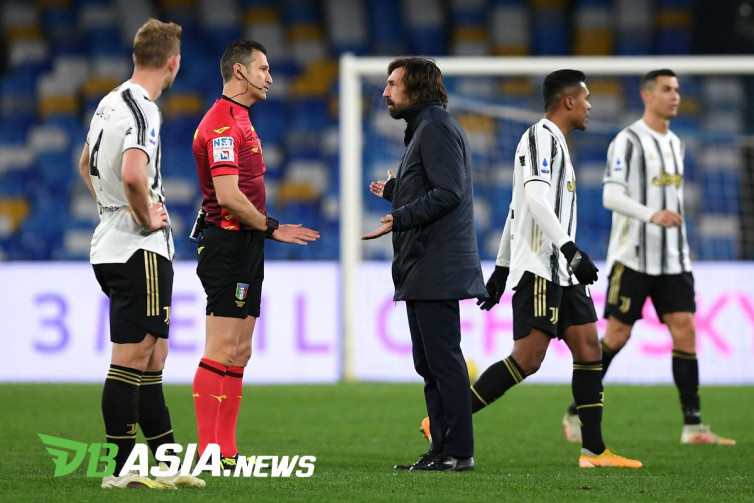 DBasia.news – Juventus had to lose when they visited Napoli's headquarters in the continued 2020-2021 Serie A. But the coach, Andrea Pirlo could not accept these results.
In a match that took place at the Stadio Diego Armando Maradona, Sunday (14/2) am, WIB, Juventus were beaten with a score of 0-1. The only goal in this match was scored by Lorenzo Insigne from the penalty spot in the 31st minute.
This goal was a moment of atonement for Insigne. He did fail to execute a penalty when he met the same opponent in the Italian Super Cup, January 21.
But the goal was also a questionable moment for Pirlo. He considered that Juventus was not worthy of a penalty.
The referee did point to the spot after Giorgio Chiellini was deemed to have violated Amir Rrahmani in an aerial duel in the penalty box. His hand had hit the opponent's face.
However, from reruns, Chiellini seemed to have done this inadvertently. Then the ball was also successfully secured by Wojciech Szczesny.
"We never let a shot on the goal, but we lost because of a dubious incident. We put in the performance we needed, but not the results we deserved, "Pirlo told Sky Sport Italia.
"If you give a penalty for a moment like that then every contact will be punished with a penalty kick. If it were given to us, there would be a lot of controversy and grievances, assuming it would all be given to us. "
"I'm just saying it happened and it was a dubious penalty. Some incidents are treated differently against Juventus, because everyone is talking about us, "he added.
Naturally, Pirlo was upset. Juventus actually played quite well in this match.
Juventus have repeatedly bombarded Napoli's goal. Only Alex Meret's toughness between the sticks made the Bianconeri fail to score.
"We created a lot of chances but the Napoli goalkeeper is the Man of the Match. If we do this type of performance and score goals, then I am sure we will get the results we want," he concluded.