Thursday, 24 November 2022
Argentina 1-2 Saudi Arabia, surprise at the 2022 World Cup
By db-admin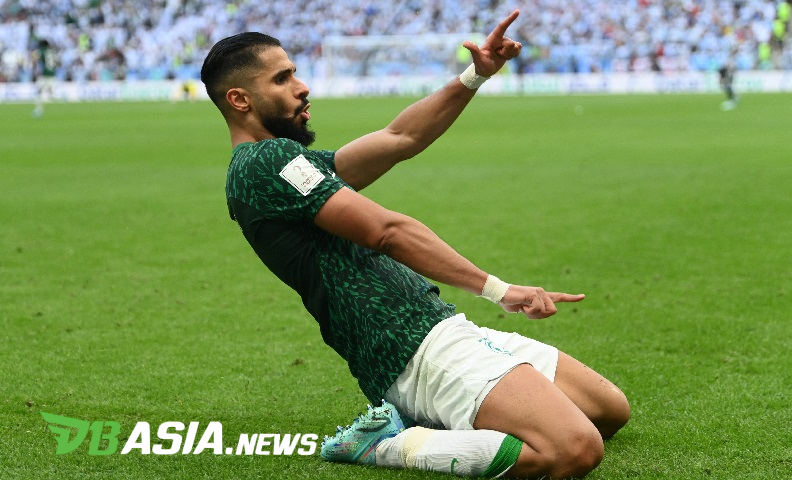 DBasia.news – The surprise occurred during the first match in Group C of the 2022 World Cup, between the Argentina national team and the Saudi Arabian national team. The Albiceleste had to lose 1-2 and their unbeaten record of 36 matches ended.
Lionel Scaloni implemented a 4-2-3-1 formation for Argentina by making Lautaro Martinez the spearhead, who was supported by Angel Di Maria, Lionel Messi and Papu Gomez. Meanwhile, Saudi Arabia used the 4-4-1-1 tactic.
10 minutes in and Argentina were superior. The violation was committed by Ali Al Bulayhi in the eighth minute against Leandro Paredes in the penalty box. Lionel Messi became the penalty taker and did his job well. 1-0 to Argentina.
After that goal Argentina dominated with possession but Saudi Arabia, unexpectedly, played well and organized at the back. Their defense was challenging for Argentine players to penetrate.
In fact, in several moments, Argentina's attack were thwarted by the offside trap (seven times offside) which was demonstrated by the Saudi Arabian defense. Messi's goal was the only goal in the first half. Argentina 1-0 Saudi Arabia.
The surprise happened in the second half. Just two minutes into the second half, Saudi Arabia surprised the public with a goal scored by Saleh Al Shehri after receiving a ball from Feras Al Brikan. Al Shehri fired well even though it was escorted by Cristian Romero. 1-1 equal position.
The momentum continued with the second goal scored by the 31-year-old striker, Salem Al-Dawsari, in the 53rd minute. The Al-Hilal striker received the ball on the right side of Argentina's penalty box, shook the opponent and fired a shot that resulted in a goal against Argentina which was guarded by Emiliano Martinez. Saudi Arabia took the lead 2-1.
Scaloni immediately responded with three substitutions by playing Julian Alvarez, Enzo Fernandez and Lisandro Martinez. Argentina fans were anxious about the scoreboard.
Saudi Arabia were all-out to maintain this advantage. Meanwhile, Argentina gave all their capabilities and continued to attack Saudi Arabia's defense. However, Saudi Arabia were still able to maintain the advantage until the last 10 minutes of the fight.
10 minutes of added time and Argentina were frustrated by the tight defense of Saudi Arabia. Surprises ensued at the Lusail Stadium and Saudi Arabia won 2-1 over Argentina, ending Argentina's unbeaten record.
Player lineup
Argentina (4-2-3-1): Emiliano Martinez; Nahuel Molina, Cristian Romero (Lisandro Martinez 59′), Nicolas Otamendi, Nicolas Tagliafico (Marcos Acuna 71′); Rodrigo De Paul, Leandro Paredes (Enzo Fernandez 59′); Angel Di Maria, Lionel Messi, Papu Gomez (Julian Alvarez 59′); Lautaro Martinez.
Substitute: Franco Armani, Geronimo Rulli, Juan Foyth, Gonzalo Montiel, German Pezzella, Marcos Acuna, Julian Alvarez, Exequiel Palacios, Angel Correa, Thiago Almada, Guido Rodriguez, Alexis Mac Allister, Paulo Dybala, Enzo Fernandez, Lisandro Martinez.
Coach: Lionel Scaloni
Saudi Arabia (4-4-1-1): Mohammed Al Owais; Saud Abdulhamid, Hassan Tambakti, Ali Al Bulayhi, Yasir Al Shahrani (Mohammed Al Burayk 90+0′); Feras Al Brikan (Haitham Asiri 89′), Mohammed Kanno, Adbulelah Al Malki, Salem Al Dawsari; Salman Al Faraj (Nawaf Al Abid 45+4′ – Abdulelah Al Amri 88′); Saleh Al Shehri (Sultan Al Ghannam 78′).
Substitute: Mohammed Al Yami, Nawaf Al Aqidi, Sultan Al Ghannam, Abdullah Madu, Abdulelah Al Amri, Mohammed Al Burayk, Abdullah Otayf, Ali Al Hassan, Sami Al Naji, Nawaf Al Abid, Hattan Bahbri, Abdulrahman Al Obud, Nasser Al Dawsari, Haitham Asiri.
Coach: Herve Renard