Monday, 10 June 2019
Arsenal Wants to Make Money from Mesut Ozil's Sales
By news-admin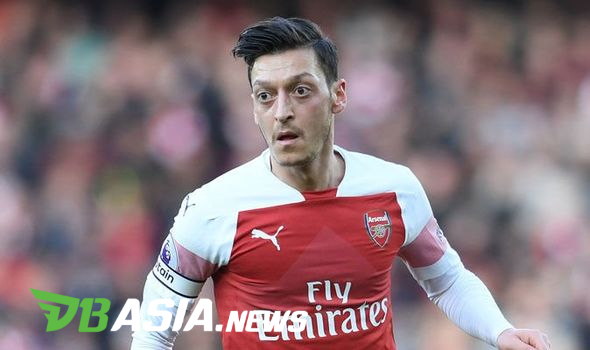 Mesut Ozil
DBasia.news –  Arsenal allegedly no longer wants Mesut Ozil's services for the 2019-20 season. They want to make money from Ozil's sales and reportedly, the Gunners are willing to pay part of Ozil's salary so he can leave.
Mesut Ozil's role at Arsenal began to fade. The midfielder is considered one of the factors that has made Arsenal show a frantic performance.
In fact, since the beginning of the season, Ozil's position in the first team was uncertain. Moreover, the former Real Madrid midfielder often experienced injuries.
In the middle of the season transfer window, Mesut Ozil was rumored to be very close to leaving Arsenal. However, at that time no club reached an agreement with the Gunners.
One of the main obstacles is the player's salary that is overvalued. Ozil gets a salary of 350 thousand pounds per week.
This amount is believed to have sparked interest in clubs to take a step back. Moreover, Ozil's performance at this time is also still doubtful.
To overcome this problem, Arsenal are reportedly willing to pay Ozil's salary at his new club. According to the Daily Mail report, the Gunners hope the strategy can make the player sell well.
However, until now there is no exact value for how much of Ozil's salary will be sustained by Arsenal. In addition, Arsenal are also reportedly opened with loan options.
The opportunity for Mesut Ozil to leave Arsenal: 50 percent
With the current conditions, Mesut Ozil has the chance to leave Arsenal. The player's relationship with Unai Emery is also one of the reasons Ozil will leave the Emirates Stadium.
12 Virgil van Dijk Merendah dan Pilih Lionel Messi sebagai Calon Pemenang Ballon d'Or
Liverpool telah berhasil mengalahkan Tottenham Hotspur dengan skor 2-0 dalam partai final Liga Champions di Wanda Metropolitano, Madrid, Minggu (2/6) dini hari WIB. Bek Liverpool, Virgil van Dijk, turut membicarakan soal Ballon d'Or pasca laga itu berakhir.
Dua gol kemenangan Liverpool masing-masing dibuat oleh Mohamed Salah melalui titik putih (2′) dan Divock Origi (87′). Virgil van Dijk dinobatkan sebagai pemain terbaik partai final.
Virgil van Dijk dianggap layak menerima penghargaan menyusul performanya bersama Liverpool. Terutama musim ini, ia menjadi benteng kokoh yang menjaga stabilitas pertahanan The Reds hingga berbuah gelar di Liga Champions.
Virgil van Dijk sudah lebih dulu meraih penghargaan, sebagai Pemain Terbaik Liga Premier versi PFA.
Menurut Virgil van Dijk, satu nama lebih pantas darinya yakni Lionel Messi. Baginya, Messi tetap pemain terbaik di dunia meski tak mampu membawa timnyas Barcelona hingga final.
"Saya pikir Lionel Messi adalah pemain terbaik di dunia. Ia harus memenangkan Ballon d'Or," kata Virgil van Dijk dikutip dari Express.
"Jadi saya tidak memikirkan itu. Tetapi jika saya menang, saya akan meraihnya. Messi harusnya memenangkan. Ia adalah yang terbaik di dunia, di final atau tidak," sambungnya.