Monday, 2 December 2019
David Martin Weeps after Chelsea's Victory over West Ham
By db-admin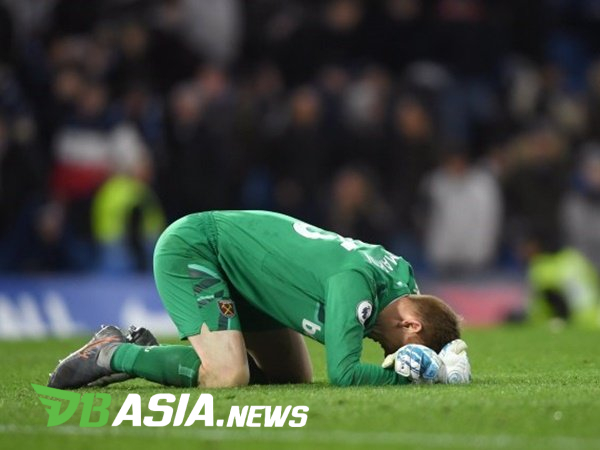 DBasia.news –  Aaron Cresswell's goal has set West Ham United's 1-0 victory over Chelsea in the Premier League match.
The victory was even more special for the 33-year-old goalkeeper, David Martin. The new British keeper came in the summer from Millwall, with a two-year contract, to line up Lukasz Fabianski and Roberto.
However, the two main goalkeepers were injured and Martin made his first debut for the Hammers. His debut ended sweetly. Not only did he keep a clean sheet and win West Ham victory over Chelsea after last doing it at Stamford Bridge in 2002, Martin also has strong ties with the club.
Martin's father, Alvin Martin, is a West Ham legend who played there in mid 1976-1996 as a defender. West Ham's dramatic victory, which is in the minor period, will always be remembered by fans.
Even worse, Martin recorded six saves and has exceeded the highest number of saves made by West Ham goalkeeper this season. All interesting facts and stories from Martin led to the cries that broke out after the game ended.
"This does not feel real. I am now 33 years old, I have a good career, I played a few games, but still it does not make you ready for this. I have had difficulty eating in the last two days," said Martin in the Guardian.
"When I saw my father, we cried together, so we didn't really say much. But for my father to see, here with the club he played for 21 years, I made my debut, recorded a clean sheet and won, this is a fantastic feeling. "
Martin's brilliant performance also won praise from his manager, Manuel Pellegrini.
"Of course, we know his family is related to this club. It is not easy for him to play the first starter in the Premier League. However, I think from the beginning I spoke to him for a week, I felt he was ready," said Pellegrini.
A special night for David Martin. Manuel Pellegrini will of course consider playing him in subsequent matches.