Monday, 13 January 2020
Interesting Record from Aubameyang's Red Card at the London Derby
By db-admin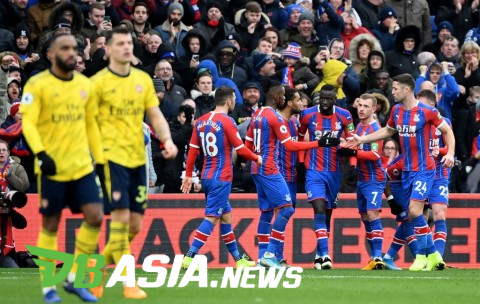 DBasia.news –  Arsenal drew 1-1 against Crystal Palace in the 22nd week of the Premier League at Selhurst Park. Also in the match Arsenal striker, Pierre-Emerick Aubameyang, received a red card.
Indeed, Arsenal started the match well. In fact, the Gunners was able to excel in the 12th minute after Pierre-Emerick Aubameyang scored.
The goal process started from Alexandre Lacazette's stab in the middle of the field. Then, Lacazette sent a pass to Aubameyang who ran from the left side. Aubamayang, who had good control of the ball, was able to score on Palace's left side goal.
Crystal Palace was able to equalize in the 54th minute. Receiving Cheikhou Kouyate's pass, Jordan Ayew listed his name on the scoreboard.
When Arsenal were in need of a goal to get back ahead, Pierre-Emerick Aubameyang did a mistake. The striker received a red card after tackling Max Meyer with a hard tackle.
Initially, the referee only gave a yellow card for Aubameyang's actions. However, with the VAR's guide, the yellow card turned into a red card.
Based on Opta Joe's report, Aubameyang became the third Arsenal player to score and receive a red card in one match. In fact, Aubameyang also carved an impressive record of the second sharpest player (18 goals) at the opponent's headquarters in the Premier League match after Jamie Vardy (19 goals). The acquisition was calculated since the beginning of last season.
Interestingly, the Gunners player who last did it was Mikel Arteta with the same opponent, Crystal Palace, at Selhurst Park in October 2013.
Now, the task of Arsenal to penetrate the top four is increasingly challenging. The Gunners are slumped in 10th place of the standings with 28 points.