Wednesday, 22 March 2023
Lionel Messi's disappointing fate at PSG
By db-admin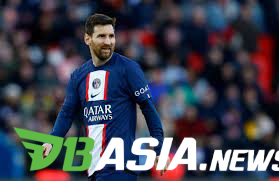 DBasia.news – The status of winning the 2022 World Cup with the Argentine national team has not changed Lionel Messi's condition at PSG (Paris Saint-Germain). The 35-year-old player is still the target of supporters' disappointment after PSG were eliminated in the Champions League.
Messi is in his second year with PSG and his contract will expire at the end of this season. From a personal point of view, this season at PSG Messi is better than last season with 18 goals and 17 assists from 32 matches in all competitions.
Even so, it all seemed meaningless to PSG fans. Most of them still mocked Messi, venting their anger because PSG were eliminated by Bayern Munich in the Champions League.
The treatment of fans got even worse as PSG recently lost to Stade Rennes 0-2 at home, their first defeat there this year.
Judging from Messi's situation at PSG, his former Barcelona team-mate, Sergi Roberto, is disappointed. He couldn't stop thinking about the actions of PSG fans to the winner of the seven Ballon d'Or. According to Roberto, Messi would never get this treatment from Barcelona fans.
"You don't understand that he had a good season in Paris, scored a lot of goals, gave assists," Roberto said as quoted by the Mirror.
"Because of the (Champions League) elimination they had an issue with him but he is a spectacular player and it is bad to be a player of this level treated this way. If he came here, we would treat him well."
Messi with Barcelona is timeless history, with what a huge legacy he left there and he left as a legend. Messi's return to Barcelona is always anticipated.
"With open arms (welcoming Messi), who doesn't want Messi to come back?" added Roberto.
"In the end, we don't talk about it much because he, the president, the coach or whoever has to decide, but if it's because of the players then we will be waiting for him now."