Saturday, 21 January 2023
Mahrez breaks up Arsenal's party
By db-admin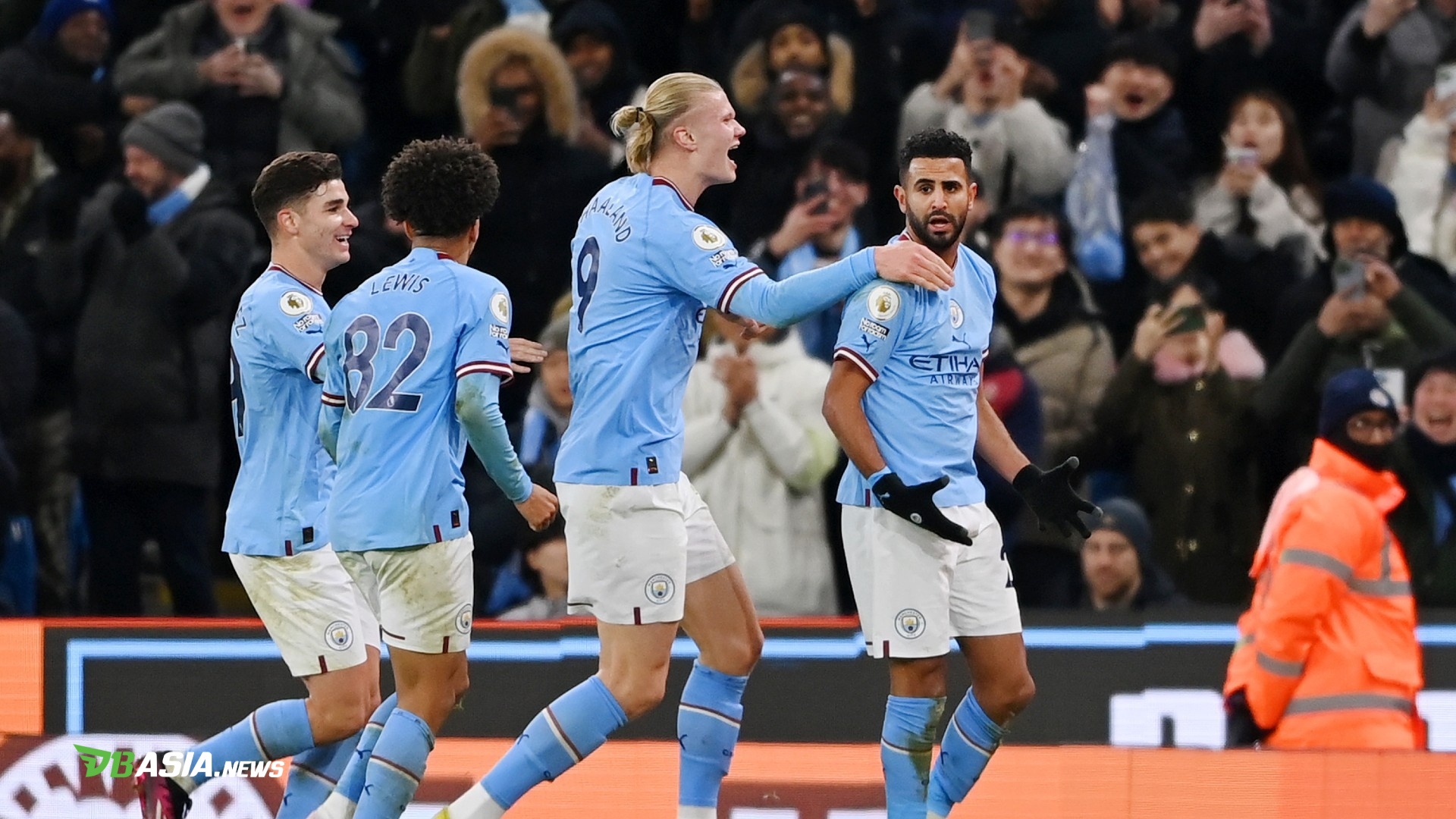 DBasia.news – Entering the game with their heads down, after losing unfairly in the Manchester Derby, and overshadowed by the fact that Tottenham have beaten them three times out of the last five meetings, Manchester City are under massive pressure.
Even if you can feel it. Spurs, known for their bad starts under Antonio Conte, appeared different in the early matches that were held at the Etihad. Man City, even though they controlled most of the ball, looked unconvincing and lacked creativity.
That nervousness also peaked at the end of the first half, two quick goals nested in Ederson's goal as a result of The Citizens' defensive blunders. Despite being in possession of the ball and bombarding Tottenham's goal, Pep Guardiola's team went down at halftime by conceding goals from Dejan Kulusevski and Emerson Royal.
Will it happen again? Will the old story repeat itself? Is it possible for the Spurs to snatch points from Man City again? Conte's team rarely throws away a two-goal lead in the second half of a game. But as Giorgio Chiellini once said: "This is the history of Tottenham."
Manchester City, who appeared violent after the interval, only needed eight minutes to neutralize the position to be 2-2. Riyad Mahrez then seemed to smell new blood and dragged City into control of the match, pressing Tottenham, who were devastated at the end of the game.
The Algerian star capped off his dazzling display with a brace that sealed City's three points and ended Arsenal's run at the top of the Premiere League.
On an absurd night at the Etihad Stadium, here are the winners and losers.
WINNER
Riyad Mahrez:
A winger who hugs the field line, penetrates through death dribbles, and doesn't care what the haters say. It's true, Man City needs more like Mahrez.
It doesn't matter what you say about Spurs who have continued to increase, it must be admitted that it was Mahrez who forced Conte's troops to relapse. Without him in the starting line-up, City really lacked creativity and as if lost. There aren't many wingers who can emulate what he has consistently done at the highest level and changed the game the way he did against Tottenham.
Always skillful and looking threatening, a real nightmare for defenders.
Rico Lewis:
City deserves appreciation for being careful not to reduce Lewis to just a passionate player. The presence of a local youth like himself who is able to break into the first team and bring a bit of a sense of grit that is not just the robotic technical skills of Guardiola's team is invaluable for the Manchester giants.
But the best aspect of Lewis is that he has managed to handle the pressure of being part of the City first team, and that really speaks for his talent and mentality.
Not only pushed forward and released brilliant passes that knit the game, Lewis was also able to 'rough work' in the defensive phase. His block in the second half to thwart Ivan Perisic's effort, which in another universe would have been a goal, is proof of that.
Someday when Man City rejuvenates their squad, Lewis must be a part. What a talent!
Premier League Fans:
The win for Man City is a reminder to Premier League fans that they are still not out of the title race. Quite the contrary, the comeback against the Spurs is a statement for war.
City also still have to face Arsenal twice. Striking out Guardiola's fleet from the talk of champions in the middle of the season is a rash act.
We could just witness a wild and crazy title fight between City and Arsenal in the second half of this season. And who knows, maybe Manchester United will follow suit.
What is clear, just prepare the popcorn!
LOSERS
Ederson:
Win or lose is normal. But it feels like Ederson has been 'losing' more often than 'winning' lately.
His risky style of play suits Man City, but there must be a clear line between 'quiet' and 'lack of concentration'. The blunders that led to Tottenham's goal should have been avoided, and hurt City badly who controlled the match for the first 45 minutes.
Ironically, it is this range of the Brazilian goalkeeper's pass that makes him a first-class goalkeeper. Instead of putting pressure on his defenders, his highly accurate strike can be a secret weapon, especially considering that Erling Haaland is always ready to run and sneak behind the opponent's defense.
For that, please multiply measured gastric passes and reduce inconsequential passes, yes, Ederson. Now it's a serious problem because Man City can't always beat the opponent in front of them.
Hugo Lloris:
Admittedly, not a good night for the keepers.
What worries Lloris is not the blunders he makes, but that you know he DEFINITELY has at least one more blunder, this has stood the test of years. But Tottenham still haven't dealt with this problem and instead let him wear the captain's armband under the crossbar. Maybe this is a reflection of their mentality.
Over the last few years, Lloris hasn't been good enough and now it's even more obvious. There was no reason to justify how he could have been beaten in City's third goal, but he knew he would not be dropped even if he consistently failed.
Something must be changed. If Spurs are serious about becoming a championship team, then they must immediately replace their goalkeeper and captain.
Manchester United:
If before a draw against Crystal Palace didn't feel like a defeat, now it definitely feels different.
The Red Devils had the opportunity to temporarily overtake City in the Premier League standings by beating The Eagles, Thursday (19/1), but instead appeared modest before being knocked out by Michael Olise's brilliant shriek in bloody minutes. Meanwhile, Man City did not panic at all despite playing poorly in the first half and were finally able to end Spurs in a potentially vital victory.
If only MU wins, it is City who would be depressed. But MU failed to win, and the faint hope of entering the title race seemed to disappear instantly. Maybe it's not the time for them yet.