Thursday, 2 March 2023
Manchester United more dangerous after winning the Carabao Cup
By db-admin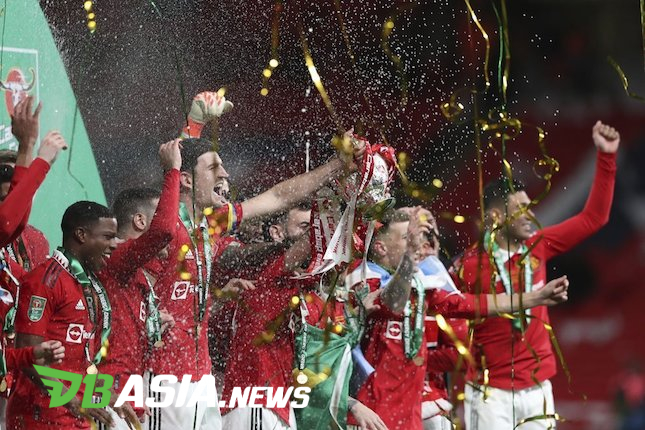 DBasia.news – Gary Neville, a former MU defender, feels that winning the 2023 Carabao Cup will be a boost for Erik Ten Hag's squad. This title will be the beginning of MU's revival after six seasons without receiving a trophy.
Erik Ten Hag's team managed to appear neat by overthrowing Newcastle United in the final. Playing at Wembley Stadium, MU won with a score of 2-0 thanks to goals from Casemiro and Marcus Rashford on Sunday (26/2/2023).
This victory is a springboard for the players to provide more results in the remainder of the 2022/23 season. Moreover, MU are still competing in three competitions at the moment (Premier League, Europa League and FA Cup).
Neville believes that the Carabao Cup trophy can be a pump of enthusiasm and self-confidence for United players and fans. "This trophy is a catalyst to feel confident and put faith in the squad," Neville said as quoted by Sky Sports.
Previously, MU managed to get rid of Barcelona in the 2022/23 Europa League play-offs. This victory was seen as proof of MU's rapid development under Erik Ten Hag's concoction of tactics.
However, Neville feels that MU will develop even more considering that Ten Hag has only completed half of the season. Moreover, MU have succeeded in draping medals around their necks which will awaken MU's champion mentality.
"This squad is going to be dangerous with a medal around their neck because you like to think Erik ten Hag is going to improve them again in the next 12 to 18 months," said Neville.
Gary Neville revealed that he was surprised by MU's development so far. The reason is, Ten Hag overcame many problems at MU in a short time.
Neville himself is satisfied with Ten Hag's work behind the scenes at Old Trafford. Even so, Neville believes that MU is still not at the same level as Arsenal and Manchester City at the moment.
"They are not close to Arsenal or Man City, that's clear, but where they are and what they are doing is something I would never have imagined six months ago," Neville stated.
What Erik Ten Hag did was not just play and gave the Carabao Cup trophy. In Neville's opinion, Ten Hag has also succeeded in returning the love of MU fans, which has so far faded with the performance of their favorite team.
Neville felt that Ten Hag was able to maintain the positive momentum at MU so that it finally made the fans' confidence return. When MU lifted the trophy, Neville felt that all the fans were shouting one name, namely Erik Ten Hag.
"The fans love this team. You can hear the cheers the fans gave to Ten Hag, they love him."
"When he (Ten Hag) lifts trophies there is no doubt who the fans think is the most important person (in the team)," Neville added.