Wednesday, 22 March 2023
Marcel Sabitzer's unique goal against Fulham
By db-admin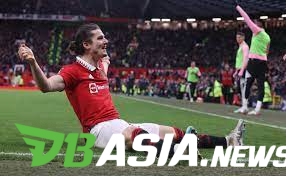 DBasia.news – Marcel Sabitzer managed to score his first goal for the Red Devils when he met Fulham in the 2022-2023 FA Cup quarter-finals. What's more interesting, the goal was unique.
In the match that took place at Old Trafford, Sunday (19/3), Manchester United beat Fulham with a score of 3-1. Sabitzer scored the second goal which made the Red Devils reverse their position.
Fulham did take the lead through Aleksandar Mitrovic's strike in the 50th minute. This situation put Manchester United under pressure.
But the situation changed after the referee awarded a penalty in the 70th minute. VAR considered Willian to have done a handball when he blocked Jadon Sancho's shot on the goal line.
This decision was met with strong protests by Fulham. As a result, three red cards came out of the referee's pocket for Willian, Mitrovic, Marco Silva as the manager.
Bruno Fernandes took advantage of the penalty perfectly. His execution in the 75th minute outwitted Bernd Leno.
Two minutes later, Manchester United were able to reverse the position. A horizontal bait from Luke Shaw from the left was completed by Sabitzer.
Interestingly, Sabitzer greeted the bait with a left foot backhell. That is rarely done by other players which made the action look like a coincidence.
"I went too far on my right so put on my left and it's all good," Sabitzer told the BBC after the game.
Whether coincidence or not, Sabitzer's goal was crucial. Manchester United won and advanced to the semifinals.
This was also Sabitzer's first goal since being loaned to Bayern Munich last winter. He also became the first Austrian to score a goal for Manchester United.
"I am proud to have scored at Old Trafford. This is a big win for us," he stated.