Tuesday, 20 September 2022
Napoli's good record at the San Siro
By db-admin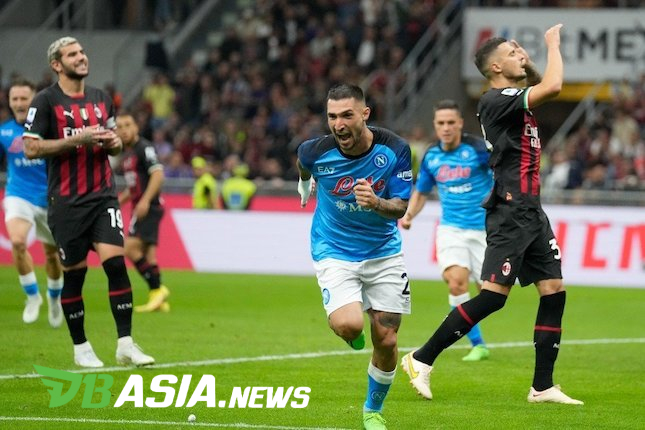 DBasia.news – The battle of two Scudetto teams or the 2022-2023 Serie A title between  AC Milan and Napoli will be held in week seven at the San Siro. Both teams are in good momentum.
Both Napoli and Milan have earned 14 points (same as Atalanta) and are only separated by goal difference and number of goals scored. Luciano Spalletti's Napoli took the lead to eventually lead the top of the standings and Milan in third.
Milan, who incidentally are the defending champion of Serie A, is slightly favored by the match played at the San Siro. But the facts show the opposite, first from the condition of the squad of the two teams ahead of the match later.
Milan's list of injured players is more with the absence of Divock Origi, Ante Rebic and Zlatan Ibrahimovic, plus Rafael Leao is absent due to an accumulation of cards. Milan have only relied on Olivier Giroud as the only striker remaining.
Napoli are also without Victor Osimhen due to injury but there are still many other players who can threaten Milan's defense. Apart from that, another factor that cannot be missed is Napoli's record at the San Siro.
The San Siro are Milan's headquarters, but Napoli are playing at their second home having lost just one of their last 11 visits there, even winning twice in a row. If they win the match then it will be three times in a row, the first since 1979 (according to information from Football-Italy).
It's interesting to see that as Milan have a great home record, recorded a win in their last 6 matches, and are unbeaten in 22 Serie A matches so far. While Napoli last lost at the San Siro in December 2014 (0-2).
"Yes, the two teams are in good form, it's hard to say who is ahead, it will be one of the teams leading the game for 90 minutes," Spalletti said.
"These are two teams that don't pay much attention to balance because of their desire to win games, sometimes you find spaces high and Milan know how to attack them immediately."
"Whoever manages the ball better, the more they anticipate the game, there will be an advantage. I've thought about the formation, that's my job, and we will do the same as them, we play with 11 players too! And then I couldn't say it again, I couldn't say it the day before," Spalletti added.