Thursday, 24 November 2022
Reasons behind the long duration of injury time at the 2022 World Cup
By db-admin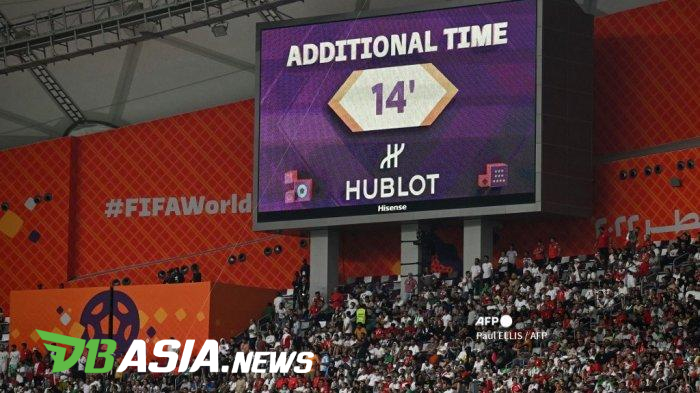 DBasia.news – The FIFA refereeing committee at the 2022 World Cup has extended the duration of injury time in each round.
This breakthrough was clearly seen in the second match featuring England against Iran. The total additional time given in both halves reached 27 minutes.
The first half of this match was marred by an injury to Iran's goalkeeper Alireza Beiranvand at the start of the match. After undergoing treatment on the field, he had to be replaced by Hossein Hosseini.
However, football fans believe that 17 minutes of first-half injury time is still too much. They were even more surprised as the extra time in the second half lasted 10 minutes even though there were no incidents like in the first half.
The length of the duration of injury time continued in other matches. In total, there have been 64 minutes of injury time from the first four matches.
This polemic finally made Pierluigi Collina as Head of the FIFA Referee Committee open up on the matter. Longer duration of injury time was the idea of ​​his higher officials.
Collina assessed that the average football match does not last 90 minutes. That's because a lot of time is wasted due to various things including the action of stalling the player's time.
Collina tried to minimize this. Therefore, the duration of injury time at the 2022 World Cup has increased significantly.
"As a spectator, I pay for tickets to the stadium to watch 90 minutes of football. But apparently, most of the game's time is wasted because throw-ins take too long, goal kicks take too long and things lead to a waste of time," said Collina told ESPN.
"A total of eight to nine minutes of time wasted throughout the game on goal kicks? So that's what we are focusing on."
The running time system in the game of football does present many loopholes to be tricked. Especially for those who are in the middle of winning.
Things will not be different in a branch like basketball. This sports time system will stop when the ball leaves the field or is stopped by the referee due to a violation.
FIFA initially had plans to imitate the basketball system. However, the duration of each round will be changed.
Collina's idea could be another option to make football more competitive. At least now no team is faking an injury to buy time and irritate the audience.
"Think, one goal celebration can take one to one and a half minutes. Then if the team scores three goals, that means up to five minutes of time can be wasted," he added.
"We are now accurately timing on the pitch."