Thursday, 17 June 2021
The Moment Cristiano Ronaldo Got Rid of Two Bottles of Euro 2020 Sponsored Soda
By db-admin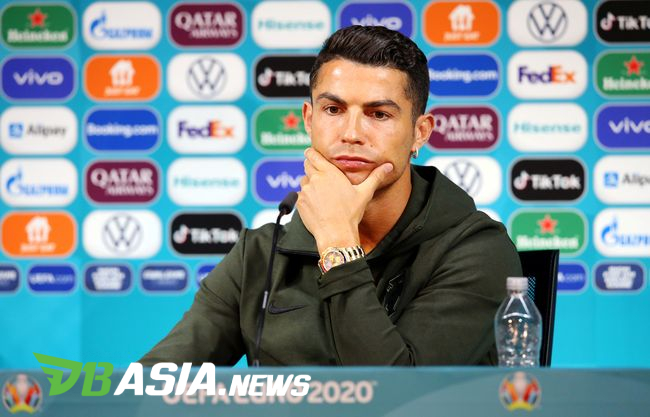 DBasia.news – Cristiano Ronaldo removed two soda bottles from his table at a press conference session ahead of the Euro 2020 match on Monday (14/6) yesterday. At that moment, the Portugal captain then raised bottled water and explained that people should not drink soda.
To add to the dramatic effect, Ronaldo gestured with his eyes while giving the soda brand a look of disgust at Coca-Cola, which is one of the sponsors of this summer's tournament.
Even so, Ronaldo doesn't care as he believes water is much healthier than soft drinks which are known to contain a lot of sugar.
As for one bottle of Coca-Cola, the size of 330 ml, for example, in England the sugar content can reach 35 grams, Thailand 32 grams, and in Canada it even penetrates 39 grams. All of that above eight teaspoons, as Goal quoted from Kompas Health.
Ronaldo and coach Fernando Santos are faced with the task of responding to journalists' questions ahead of Portugal's inaugural match at Euro 2020.
The captain sat on the right and immediately removed the two soda bottles in front of him, as if he didn't want to play a part in promoting a drink that could potentially harm health.
The defending champions will start their adventure in Group F on Tuesday (15/6) against Hungary.
After that they will face two top teams because they have a duel with Germany on Saturday and France next Wednesday.