Wednesday, 12 January 2022
Though rarely played, Barcelona still extends Samuel Umtiti's contract
By db-admin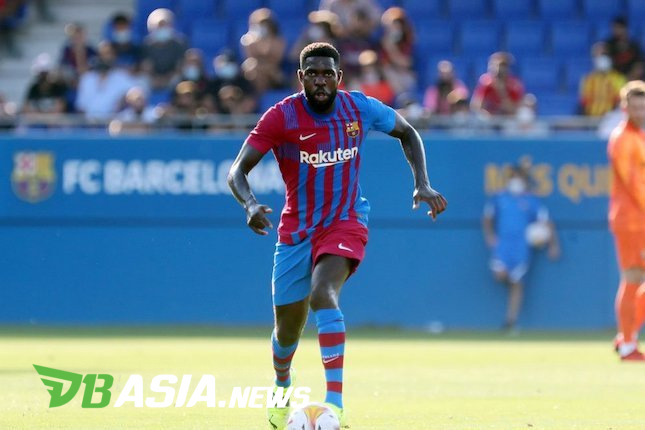 DBasia.news – Barcelona has extended the contract of defender, Samuel Umtiti. So, what is the real reason behind the extension of the service period for players who rarely play?
Samuel Umtiti is an unused player at Barcelona. Umtiti's days were spent in the treatment room. In fact, last summer, Barca offered Umtiti to a number of clubs.
Now, Barca actually took a strange step by extending the 28-year player's contract until 2026. Apparently, Barcelona had a mature calculation behind the decisions taken.
"FC Barcelona and the first team player, Samuel Umtiti, have reached an agreement to extend the contract until June 30, 2026. The French defender has reduced part of the salary that should have been received in the last year and a half of the contract," Barcelona wrote in an official statement.
According to circulating reports, Samuel Umtiti will earn €16.2 million in the next 4.5 years. That means, every season the defender receives a salary of €3.6 million.
"This contract extension operation requires a greater financial commitment for Barcelona with the player," Barcelona stated.
There is an ulterior motive, it turns out that Barcelona does have a special agenda. With Umtiti's new contract, space will appear in the total salary expenditure that can be used to register Ferran Torres. Not surprisingly, Barca thanked Umtiti for being willing to be sacrificed.
"Barcelona openly expressesed their gratitude to Samuel Umtiti for his willingness and affection shown to the club."
Previously, Barcelona was unable to register Torres as a new player due to the salary limit regulations. In fact, Barcelona have released Philippe Coutinho to Aston Villa.
"Through this contract extension, Barcelona can increase their financial fair play quota, and thus can register Ferran Torres to the Spanish professional football league," Barcelona continued.
In addition to accommodating Ferran Torres, Umtiti's contract extension can also be read as a step to make it easier to sell the defender. So far the fans have collided with the high salary of the former Olympique Lyon.