Tuesday, 12 January 2021
Zidane furious as Real Madrid was forced to play during a snowstorm
By db-admin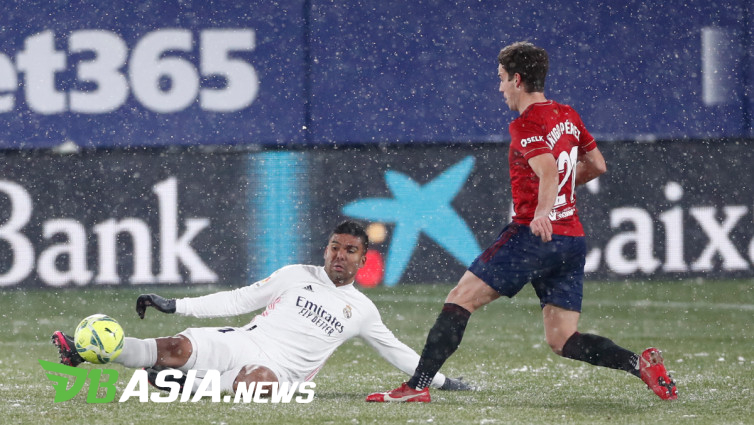 DBasia.news – Real Madrid coach, Zinedine Zidane admitted that he was furious as his team was forced to play against Osasuna when Spain was hit by a snowstorm. Zidane said it was challenging to play in such weather.
Real Madrid drew 0-0 when they visited Osasuna's headquarters. The match was played when hurricane Filomena hit Spain. The snowstorm also postponed Atletico Madrid's duel against Athletic Bilbao.
Before the match, Madrid had experienced several obstacles. They were detained at the airport for more than three hours waiting for permission to take off.
After the match, Zidane was unable to contain his disappointment. He considered, the Madrid match against Osasuna was forced to be held.
"We did what we could on the pitch. However, it was not a football match. The conditions were very difficult," said Zidane as reported by Goal.
"Everything that happened in these two days is very complicated. We don't know when we can come back," he continued.
With Madrid also hit by a snowstorm, Real have no chance of returning home on Saturday. The Madrid troops remain at the hotal in Pamplona.
"Obviously the match against Osasuna must be postponed. That's clear. Conditions for playing football are not fulfilled. Our nature is like our opponents."
Zidane was asked to comment on the character of the Spanish football federation who has pushed for as many matches as possible.
"I won't go into other things. We've done what they told us. We've played and that's it."
"We have to think about recovery and if we don't know whether to go to Madrid tomorrow, whether we will come back on Monday. Meanwhile, on Wednesday we have another game."
In that match, Real Madrid did not fire on target in the first half. It was the first time this season.