Saturday, 29 February 2020
Defeat Real Madrid, Manchester City Carve History
By db-admin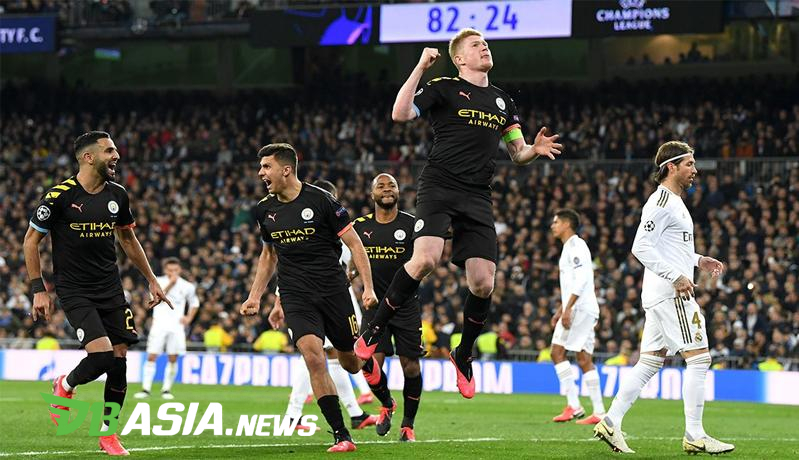 DBasia.news –  Manchester City surprisingly defeated Spanish giants Real Madrid in the Champions League first leg at the Santiago Bernabeu on Thursday (2/27) early morning with a score of 2-1. These results make The Citizens make history in front of tens of thousands of Los Blancos supporters.
For the first time in the history of Man City, a team formed since 1880, they defeated Real Madrid. Man City made the long journey to face El Real in the 2016 Champions League semifinals.
Coming up with news related to sanctions from UEFA for violations of FFP (Financial Fair Play) which forbid the team to be absent in two successive European competitions and fines, Man City played carefree at Real Madrid headquarters.
Left behind 0-1 from Isco's goal in minute 60 – his first goal since September 2018 in the Champions League, Man City made by Pep Guardiola showed an unyielding mentality. The two-time winner in the Premier League turned in the lead in the last 15 minutes of the match.
Gabriel Jesus scored in the 78th minute and Kevin De Bruyne completed City's comeback on 83 minutes via the white point. Misfortune has increased for Real Madrid because they played with 10 players after Sergio Ramos received a red card in the 86th minute.
Not only won the match, according to the records that appear on the Champions League official Twitter, Kevin De Bruyne has scored his 50th goal in all competitions.
In total, the 28-year-old Belgian attacking midfielder has played 208 matches for Man city with a score of 50 goals and provided 81 assists – winning seven trophies in that period.
"Winning at the Bernabeu is a great satisfaction for us. It is wonderful to win here for us because we are not used to doing these things," Pep Guardiola said after the match, quoted by BBC Sport.
"We hope this will help us in the future to believe in ourselves and to be able to go to any stadium and play as we did against Real."
Nevertheless, Pep Guardiola understands that it is a big mistake if his team is satisfied with the victory because Real Madrid is one of the champions who can turn things around in a difficult moment because of the mentality they have.
"This is only the first part, not three points," Guardiola added.
"If (there is) one team can overcome this situation, for experience, for everything, this is the club (Real Madrid), but of course it's a good result."
"Of course I am very proud but this is only the first step, we have another match, this is not over," concluded Guardiola.
The second leg will take place at the Etihad Stadium on March 18, 2020, at 3:00 a.m. WIB Real Madrid can qualify for the last eight if they win 2-0 over Man City without conceding a goal.