Monday, 8 February 2021
FAT Called AFC to Ensure Group G Post to Qualify for the 2022 World Cup
By db-admin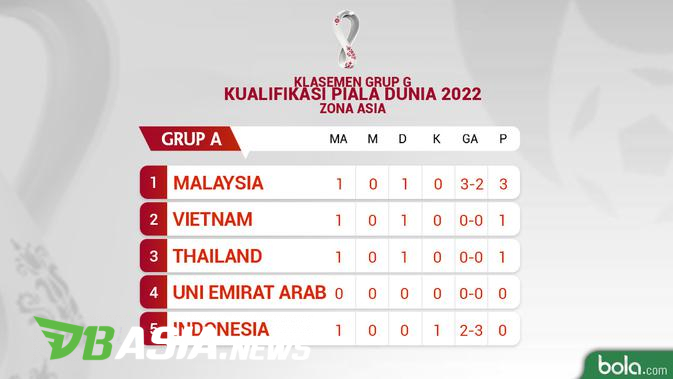 DBasia.news – The Thai Football Federation (FAT) confirmed that the remaining matches of Group G in the 2022 World Cup qualifiers for the Asian zone which took place at the end of March were postponed until June.
This was revealed by the FAT through their official website after receiving notification from the Asian football confederation (AFC). This delay is due to the Corona virus pandemic that has not decreased in a number of Southeast Asian countries.
Until now, domestic competition in the ASEAN region has been postponed. Thailand and Vietnam have not been able to continue their league, due to large-scale social restrictions. Meanwhile, the new Malaysian Super League (MSL) season was delayed until March. Meanwhile, League 1 2021 is unclear.
Previously, a number of countries in ASEAN had proposed that the match which took place at the end of March was postponed to June in a centralized manner, reflecting on the development of the situation.
Several countries are proposing that the United Arab Emirates (UAE) host it, as The Whites have three home matches out of four remaining. But the AFC has yet to determine a host for this centralized match.
"The Asian Football Confederation decided to postpone the Group G match for the 2022 World Cup qualifiers in March after understanding that the spread of COVID-19 has not decreased in several countries," said the FAT statement via its official website.
"Until now, the number of COVID-19 cases is still high, and the implementation of travel restrictions and quarantine obligations in all countries is time consuming. Details about the remaining matches will be announced at a later date. "
Based on the original schedule, Thailand will host Indonesia on March 25. On the same date, UAE welcomes Malaysia. Other matches include a duel between Malaysia and Vietnam on March 30, as well as a duel between Indonesia and the UAE.
Previously, AFC secretary general Datuk Windsor John disagreed with the Malaysian football federation (FAM) which said the Asian football body had to listen to a majority vote to postpone the match.
"We will make decisions based on the current situation, because the right to play under their respective teams has been discussed and decided. So it depends on the host country regarding the pandemic situation, not the majority vote, "said Windsor as quoted by the Astro Stadium page.
"For example, if there are five teams, it is about the situation in those five countries. The second is the border [between countries] whether it can be opened or not. If not, it must be a problem. "
"In addition, this also involves the flight of each team, because not all teams can use private flights, there are still many teams using commercial flights."