Friday, 31 January 2020
Man City Can Still Succeed if they Fail to Achieve the Premier League Title
By db-admin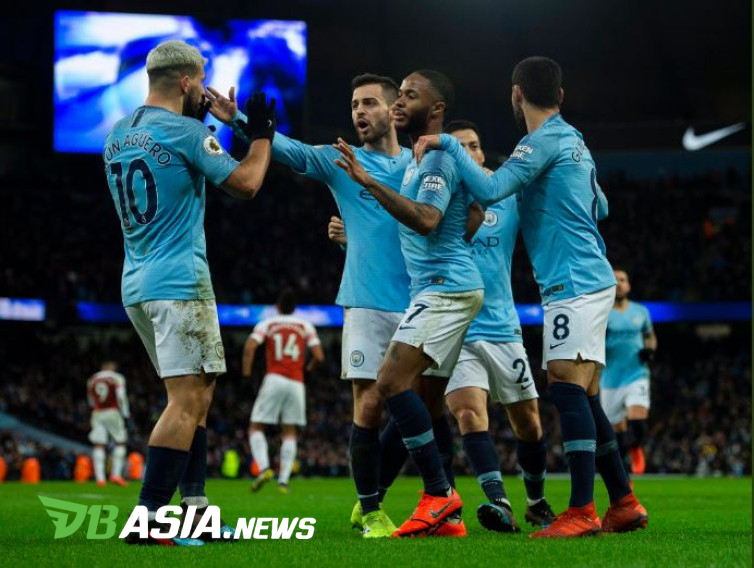 DBasia.news –  The Citizens, nickname of Man City, are still trying to catch up with Liverpool, who lead the Premiere League standings in the 2019-2020 season.
Man City is ranked second in the Premier League standings with 51 points from a total of 24 matches played. That is 16 points adrift of Liverpool, which still has one match postponed and has never lost so far.
Seeing the great consistency of the Reds and Man City who have swallowed five defeats and three draws, it is challenging for Man City to break the record of winning the Premier League title three times in a row. The public has determined Liverpool to win the title this season.
However, can that be interpreted as a failure of the 2019-20 season for Manchester City? Not exactly. Man City are still competing in three other competitions and has the opportunity to win two domestic titles – even though the chance is as strong as other teams in Europe.
According to Everton legend analysis, Tim Cahill on BBC Sport, the football philosophy that has been formed by Pep Guardiola for the past four years allows them to try to win the whole trophy.
"Manchester City's philosophy is to try to win everything – so they focus on each game in the same way, whether in the Premier League, Champions League, FA Cup or League Cup," Tim Cahill said.
Cahill's analysis isn't wrong. No matter if they win titles that are considered 'only' small titles like the League Cup, a trophy is a trophy. The same seriousness was also shown by Man City in the FA Cup, Premier League and Champions League.
Recently, Man City won 4-0 over Fulham in four FA Cups through two goals from Gabriel Jesus, Bernardo Silva and Ilkay Gundogan's penalty. Not once did Man City reduce their gas and play out of the ordinary, even though on paper there should be no difficulty against Fulham.
Manchester City's Preparations
Ahead of the Manchester Derby against Manchester United, Man City are already winning 3-1 on aggregate from the first leg at Old Trafford and their preparations are never problematic for the second leg. The Citizens will not think of playing to defend that advantage.
Even so to fight Real Madrid in the top 16 of the Champions League in February. Real Madrid is the king of Europe with 13 Champions League titles. Man City's preparations for the two matches remain the same: stick to the philosophy carried by Pep Guardiola.
"However, if they fail (when against Real Madrid), then it certainly will not arrive at a lack of preparation. This is more a question of whether they can produce a performance that we know they can show," Cahill added.
"They will be ready for Real Madrid when they face them in the last 16 months because, when Pep Guardiola is your manager, you are ready for anyone," he stressed.
Aymeric Laporte's recovery
One other crucial thing that helped Man City prepare for was the recovery of Aymeric Laporte from injury. Some time ago, Guardiola once called him the best left-legged defender in the world.
At first glance, what he said looked simple "the defender who is left-legged, so what's so special?" The public might think so, but not for Guardiola. Laporte perfects his playing tactics from the back line.
Without the existence of Laporte, Man City has difficulty to build attacks from behind. In addition, another advantage of the left-legged defender is to complete whoever's tandem is at the heart of the defense as long as he is right-footed: John Stones or Nicolas Otamendi.
Fernandinho had worked hard to cover the area at the age of 34 years old. Now, he can be rested by Guardiola and return to his original position: defensive midfielder.
"It is positive for Guardiola that his regular center back, Aymeric Laporte, has returned now after a long-term injury, and Oleksandr Zinchenko is also available at left back," Cahill said.
"In the absence of Laporte, Fernandinho has become a mainstay of City's defense, but I don't think it is a problem that they have never played together when they entered the latter part of the season."
"City's system and style are the same as anyone on the team, so all their players always understand how they play, but Guardiola rotates the players."
So, if Man City ends the season without a Premier League title and wins two domestic titles: the FA Cup and the League Cup – especially if they succeed in winning the Champions League, their season will still be a success. Of course the story is different if they fail to win the trophies.