Friday, 7 December 2018
Milovan Rajevac Assumes Malaysia National Team Deserve the 2018 AFF Cup Final
By db-admin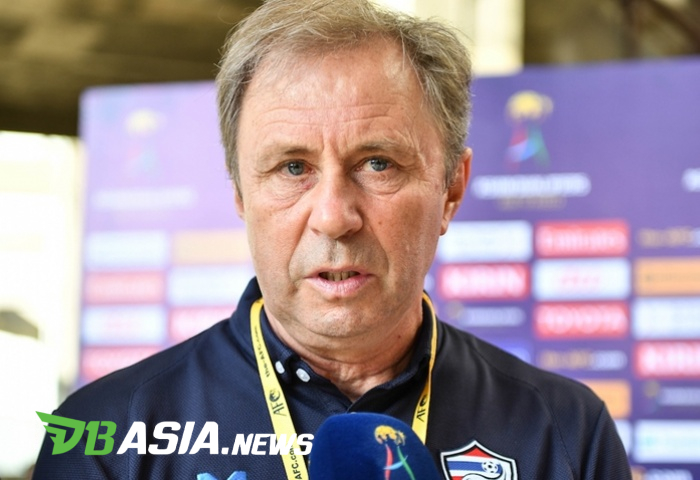 Milovan Rajevac
DBasia.news – Malaysia national team played dramatically in the second leg of 2018 AFF Cup semifinal round at Rajamangala Stadium, Bangkok, the home of Thailand national team on Wednesday (5/12). Both teams played draw 2-2 and Milovan Rajevac, Thailand national team coach considers Malaysia deserve the final.
Thailand national team led the match by Irfan Zakaria's own goal who pushed the heading from Thitipan Puangchan. The score turned to 1-1 after Syahmi Safari scored the goal.
Pansa Hemviboon scored the second goal by his heading at 673′. That was before Malaysia equalized the goal by Norshahrul Idlan Talaha at 71′.
The War Elephants have the chance to win after the penalty, but Adisak Kraisorn failed to execute it at 95′. Thailand stopped and Malaysia went to the final round due to the away goal after the 0-0 match at Kuala Lumpur.
"Of course, I'm not satisfied since we didn't qualify for the final but it's another experience for the players. I want to congratulate the Malaysian team. They deserve to play in the final," said Rajevac, speaking to the official website of the AFF Suzuki Cup 2018.
Rajevac mentioned Malaysia deserved the final match due to their performance. "In both matches, the Malaysian team definitely showed more determination and aggressiveness than Thailand. They wanted to get to this final so much."
Milan Rajevac also talked about Adisak Kraisorn's failure in executing the penalty. "We had the penalty and didn't convert it so we were a little unlucky in the end. I was thinking about changing the penalty taker to someone who was a bit more fresh but we had an agreement before the match that Adisak would take them. It was unlucky for him that he missed but, of course, he has our support," the Serbian coach added.