Saturday, 6 August 2022
Profiles of 3 promoted clubs in the Serie A 2022-2023
By db-admin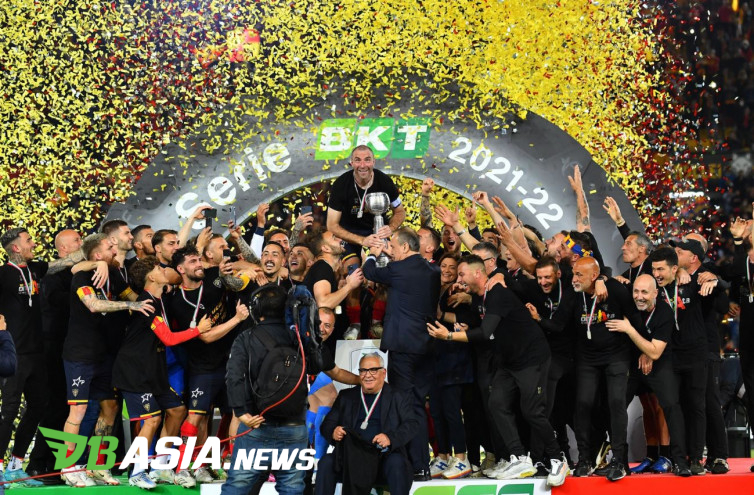 DBasia.news – One of the top leagues in Europe, Serie A will start a new season on August 13, 2022. The top teams will be looking to snatch the league title from the reigning champions, AC Milan.
The struggle for the Scudetto, the top four (Champions League zone), and the struggle to stay away from the relegation zone are interesting items that are discussed every season.
Speaking of the relegation zone, three teams were also promoted from Serie B. They replaced Cagliari, Genoa, and Venezia who failed to survive in Serie A last season and were relegated.
The three teams were Cremonese, the defending Serie B champions, followed by Serie B runners-up Monza, and the last play-off winner was Lecce who returned to Serie A after two years. Cremonese returns to Serie A after waiting 26 years, meanwhile Monza is playing for the first time in Serie A.
BolaSkor.com has prepared a brief profile of the three clubs promoted to Serie A 2022-2023. Here's the full explanation:
1. Cremones
Stadium: Stadio Giovanni Zini
Coach: Massimiliano Alvini
Captain: Matteo Bianchetti
Cremonese's 26-year wait ended, but ironically, the coach who brought them to promotion, Fabio Pecchia left and was replaced by Massimiliano Alvini. In the summer transfer window so far Cremonense have brought in Charles Pickel, Giacomo Quagliata, Frank Tsadjout, Tommaso Milanese and Johan Vasquez.
Last season the strength of the team nicknamed La Cremo was ahead, with Luca Zanimacchia and Cristian Buonaiuto scoring eight goals each. Plus goals can come from many directions with at least five different players scoring five goals.
Without a standout player of above-average quality, as well as the fact that many of their games are unknown to Serie A, Cremonese could be a surprise to at least trouble the big teams.
2. Monza
Stadium: Stadio Brianteo
Coach: Giovanni Stroppa
Captain: Mario Sampirisi
First promotion to Serie A since its founding in 1912 (109 years ago). Monza often struggles in the Italian lower division, but since being acquired by Silvio Berlusconi in 2018 the club nicknamed I Biancorossi has slowly risen.
Monza was promoted to Serie B in 2020 (after 19 years) and two years later, promoted for the first time to Serie A. Interesting journey for a club that has been declared bankrupt twice.
The arrival of Berlusconi changed Monza. Berlusconi, with his strong influence in Italy as former owner of AC Milan and former Prime Minister, changed things at Monza.
One by one the players came from Andrea Ranocchia, Warren Bondo, Alessandro Sorrentino, Pedro Pereira, Michele Di Gregorio, to Alessio Cragno.
Even with his influence there are rumors that Monza will sign Edinson Cavani to Arsenal defender Pablo Mari.
Monza is coached by former Crotone coach Giovanni Stroppa, and they have several players with experience in Serie A. Monza can stay in Serie A if he has high spirits.
3. Lecce
Stadium: Stadio Via del Mare
Coach: Marco Baroni
Captain: Fabio Lucioni
Lecce are coached by a coach who has started his coaching career since 2003, Marco Baroni, and returns to Serie A after two years of absence. So far their movement in the transfer market is quite good by borrowing players or recruiting free players.
Gianluca Fraboota, Wladimiro Falcone, Lorenzo Colombo, Federico Di Francesco, and Daniel Samek are some of Lecce's recruits.
Brazilian midfielder Gabriel Strefezza became the motor of Lecce's attack last season with a record of 14 goals and six assists. But unfortunately their top scorer, Massimo Coda, went to Genoa after scoring 20 goals and providing eight assists.