Thursday, 24 January 2019
Schedule and Contestants of 2019 Asian Cup Quarter Final
By news-admin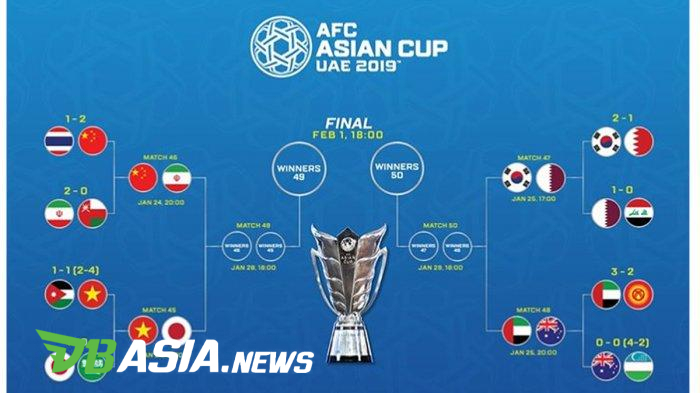 Asian Cup
DBasia.news – Qatar and South Korea are two last contestants secured the quarter-final of 2019 Asian Cup ticket in the United Arab Emirates. It means all the matches in the 16-stage are completed.
South Korea secured their position after defeating 2-1 against Bahrain at Al-Rashid Stadium, Tuesday (22/1). The match was intense when they got an equal 1-1 score until the normal time ends.
Hwang Hee-chan's goal at 43′ was responded by Mohamed Al Romaihi at 77′. The match was slower in the additional time due to the exhaustion of both teams. But, South Korea under Paulo Bento dominated the ball possession 71:29%.
In the crucial and intense moment, Kim Jin-su became the hero of South Korea's victory at 105+2′. His heading couldn't be anticipated by Bahrain goalkeeper, Abdulkarim Fardan.
The situation went 2-1 and South Korea could preserve it until the final whistle. Son Heung-min and friends scored the special record to the quarter-final for the seventh time since 1996.
In the quarter-final, they would play against Qatar who defeated Iraq 1-0 at Al Nahyan Stadium, Tuesday (22/1). The only goal was scored by Bassam Al-Rawi by the free kick at 62′.
With Iran, Qatar maintain the clean sheets in four consecutive matches, from the group qualification until the round of 16. Furthermore, their striker Almoez Ali is also the top-scorer with 7 goals.
South Korea and Qatar would meet in the quarter-final. Meanwhile, the other contestants are Vietnam, China, Iran, UAE, Australia, and Japan.
Here's the complete schedule of 2019 Quarter-FInal:
– Vietnam vs Japan, Al-Maktoum Stadium, Thursday (24/1)
– China vs Iran, Mohammed Bin Zayed Stadium, Thursday (24/1)
– South Korea vs Qatar, ZSC Stadium, Friday (25/1)
– UAE vs Australia, Hazza Bin Zayed Stadium, Friday (25/1)