Monday, 29 March 2021
The Norwegian and German National Teams Protest, but Are Not Subject to FIFA Sanctions
By db-admin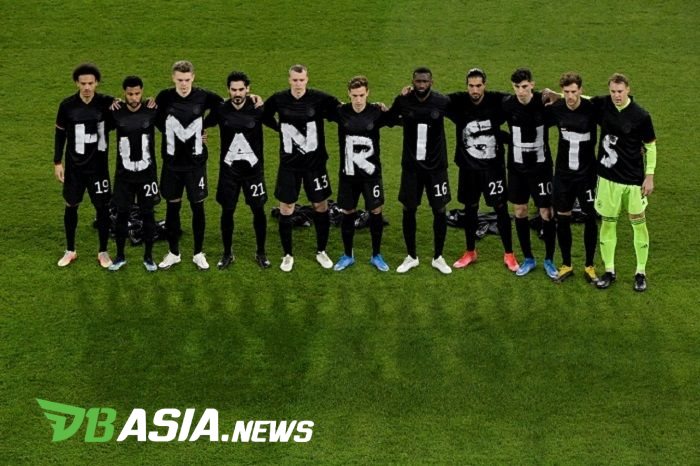 DBasia.news – The first match of the 2022 European zone World Cup qualifying was marked by a protest by the Norwegian and German national teams. Qatar as the host of the final round of this event is the target.
Norway, who are members of the group, travel to Gibraltar's headquarters in their inaugural match on Thursday (25/3). Erling Haaland and friends stole the attention when they entered the field to start the match.
The Norwegian players wear white T-shirts that read "Human Rights on and off the pitch". The message is a form of satire to Qatar, which is accused of committing human rights violations in preparing to host the 2022 World Cup.
In a Guardian report last month, Qatar was considered negligent in maintaining the safety of workers from abroad who were brought in to build infrastructure such as stadiums. It is recorded that there are about 6,500 workers who died while working.
Norwegian clubs have even urged their country's federation to boycott the 2022 World Cup. But they responded to this with a message of protest in the match against Gibraltar.
"It's a little bit about what we've been talking about, to focus on some of the things that have been discussed off the pitch. My players are eager to do this and I am here as an example," Norway coach Stale Solbakken told Norwegian TV2.
A day later, the German players took a similar action. That moment was taken when hosting Iceland in the inaugural match of Group J at the MSV-Arena.
Eleven of the main German players entered the field wearing black T-shirts bearing one different letter. When these letters are combined, the word "Human Rights" will be compiled.
This attitude shows that Germany is one vote with Norway. They demanded the death case of the workers in Qatar to complete.
"It is a sign that we stand up for all human rights in the world, everywhere and for the values we represent," said Germany coach Joachim Low.
FIFA reaction
This political humanitarian message is normally banned by FIFA. But the world football federation does not in fact do that.
FIFA insists that it will not give punishment to Germany or Norway. They consider the message to have a noble purpose.
"FIFA believes in free speech, and in the power of football as a force for good," said a FIFA statement.
At this time, only Germany and Norway had raised the protest. However, it is not impossible for other teams to carry out the qualifying rounds of the 2022 World Cup in their respective zones.