Monday, 28 September 2020
The reason Manchester United was able to obtain a penalty after the referee blew the final whistle
By db-admin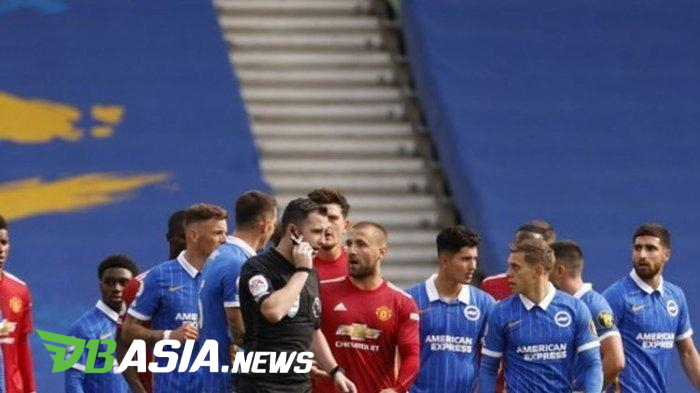 DBasia.news – A rare moment was seen in the match between Brighton Hove & Albion vs Manchester United (MU). A penalty goal executed by Bruno Fernandes in the 100th minute of the match brought MU to win 3-2 in a match that took place at the American Express Community Stadium.
Two of Brighton's goals were scored by Neal Maupay (40 'penalty) and Solly March (90 + 5') which Lewis Dunk (43 'own), Marcus Rashford (55') and Bruno Fernandes (90 + 10 'penalty) scored. The hosts dominated the game.
Brighton made 18 kicks and five of them were on target, dominated possessions by 54 percent and United fired seven kicks (three on target) with 46 percent of the ball.
Brighton wasn't lucky enough as the five chances they created all hit the crossbar. Leandro Trossard created three of them and hit the crossbar.
The VAR drama (Video Assistant Referee) also occured in the match when the match has entered added time and ended. The match referee, Chris Kavanagh, should have sounded the long whistle to signal the end of the game when the score was 2-2 equal.
Many netizens questioned the reason for the referee to keep reviewing through VAR and then giving a penalty after blowing the whistle marking the end of the match. A penalty was awarded after Maupay made a handball in the penalty box
So why did this happen? When viewed from the VAR regulations, what Kavanagh did was originally not a mistake. According to the rules of the IFAB (International Football Association Board of Directors) there is no time limit for VAR review.
"There is no time limit for the review process (VAR) as accuracy is more important than speed," said IFAB.
"Referees and other match officials must always make the initial decisions (including disciplinary action) as if there was no VAR (except for 'missed' incidents)."
"The review process must be completed as efficiently as possible, but the accuracy of the final decision is more important than speed. For this reason, and because some situations are complex with multiple decisions or incidents that can be reviewed, there is no maximum time limit for the review process."
"The referee will then take or change or cancel any disciplinary action (if appropriate) and restart play according to the laws of competition."
Brighton deserved a point or even a victory in that match, but Bruno Fernandes has a firm answer regarding this.
"We gave so much space for them to play, we were not too aggressive, we gave two goals. We have to do better," Fernandes told BT Sport.
"Brighton did well but maybe because we were not as aggressive as we wanted. We need to recover more balls, press better, lose less possession."
"Maybe they deserved more. The point is to score a goal and not hit the crossbar. Sometimes you have to be lucky," he explained.