Thursday, 4 August 2022
3 Promotion Teams in the 2022-2023 LaLiga
By db-admin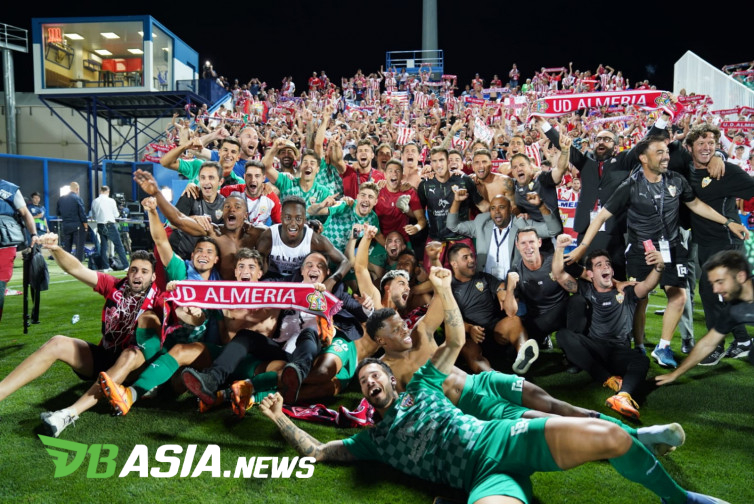 DBasia.news – On August 12, La Liga will start soon. Lets get to know more about these promotion teams.
Like the previous seasons, the 2022-2023 LaLiga will be attended by 20 participating teams. Three of them are newcomers from the Segunda division.
The three promoted teams in question are Almeria, Real Valladolid, and Girona. All three clubs have previously competed in LaLiga.
BolaSkor.com will briefly describe the profiles of the three LaLiga 2022-2023 promotion teams. Here is the full review:
1. Almeria
Home: Estadio de los Juegos Mediterraneos
Coach: Rubi
Captain: Cesar de la Hoz
Almeria are successfully promoted to LaLiga after winning the 2021-2022 Segunda division. The success was achieved in a dramatic way.
Almeria had to wait until the last match to lock up the title. They won a fierce competition with Real Valladolid.
Both teams collected 81 points. But Almeria excelled in head to head and goal difference.
Almeria also ended seven years of waiting to return to compete in LaLiga. La Union certainly doesn't want to just hitch a ride.
Almeria's seriousness can be seen from the arrival of seven new players. One of them is the product of the 19-year-old Manchester United academy, Martin Svidersky.
2. Real Valladolid
Home: Municipal Jose Zorrilla
Coach: Jose Rojo Martin Pacheta
Captain: Jordi Masip
Real Valladolid only needed a year to return to LaLiga. Pucela even almost won the 2021-2022 Segunda division.
Valladolid did perform well throughout last season. They even have the status of the most productive team in the Segunda division with a collection of 71 goals from 42 matches.
The score is a valuable asset for Valladolid to be in the LaLiga 2022-2023. The bitter experience of being degraded is certainly a thing of the past.
However, Valladolid's preparation for the new season is indeed quite worrying. So far, only four new players have been brought in.
3. Girona
Home: Municipal de Montilivi
Coach: Michel
Captain: Christian Stuani
Girona became the last team to receive a promotion ticket to LaLiga 2022-2023. They achieved it dramatically after winning the play-offs.
In the final standings of the 2021-2022 Segunda division, Girona only finished in sixth place. That is the lowest position to compete in the play-offs.
But Girona then acted in the play-off phase. They defeated Eibar and Tenerife to seal a place in LaLiga 2022-2023.
Girona continued to feel the fierce competition of the highest caste of Spanish competition after a three-year absence. The team based in Catalunya will certainly try to at least not be relegated again.
Girona has only brought in three new players so far. But Cristhian Stuani almost certainly remains a pedestal to break into the opponent's goal.