Sunday, 10 April 2022
Psywar Starts, Jurgen Klopp Directs Pressure on Pep Guardiola
By db-admin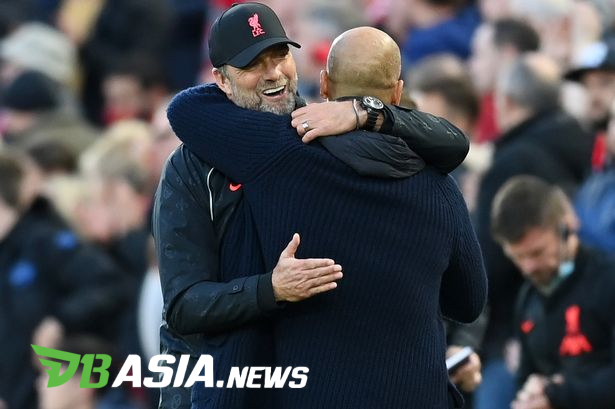 DBasia.news – The defending Premier League champions, Manchester City, will host the main rivals in the league hunt in recent years, Liverpool, in Week 32 of the Premier League at the Etihad Stadium, Sunday (10/04).
The duel between the two teams will determine the hunt for the Premier League title. City have 73 points from 30 games and are in first place, following just below them Liverpool with 72 points from 30 games.
Momentum is also shared by City and Liverpool after winning the Champions League: City won 1-0 at Atletico Madrid and Liverpool won 3-1 at Benfica. Their second meeting at Anfield earlier this season ended in a 2-2 draw.
Jurgen Klopp, Liverpool manager, started the psywar by putting pressure on City manager, Pep Guardiola. Klopp defended Guardiola by calling him the best coach in the world, despite the fact that Guardiola no longer won the Champions League after winning it with Barcelona.
"Ironic! I saw a story in Ecuador this week claiming I don't understand Luis Diaz. You have a responsibility on this planet. If you want to talk to us please help us. Pep said ironically, 'I'm thinking too much, and I like to think too much'," Klopp explained as quoted by Sky Sports.
"Pep is the best coach in the world. I think we will all agree on that and it might just be a coincidence that it hasn't worked out in the Champions League so far. If anyone doubts it, I don't know how it happened."
Klopp also predicts that the match will also be exciting considering the great rivalry of the two clubs. Klopp also never doubted the mentality of his team.
"Often it doesn't happen when two top teams face each other, but the history of our matches has shown that they make for an interesting spectacle because both teams really do," added the German.
"Both teams want to use the momentum, cut the gap and create momentum. We both want to close the gap, so I'm expecting an interesting game."
"In sport, what helps the most is having strong opponents. In the long run, especially, it helps you the most. I'm sure (Rafael) Nadal and (Roger) Federer help each other. I'm not sure it would have happened if they didn't have each other. others to compete with."
"I wouldn't say it helps (to have City as rivals), but it doesn't deny our progress."
"I'm not worried about the mentality of my kids. We have learned over the years to be in the game but after the game with Benfica they realized that now is 'City time', and we will prepare."