Sunday, 4 September 2022
Records and Records on Deadline Day Premier League 2022-2023
By db-admin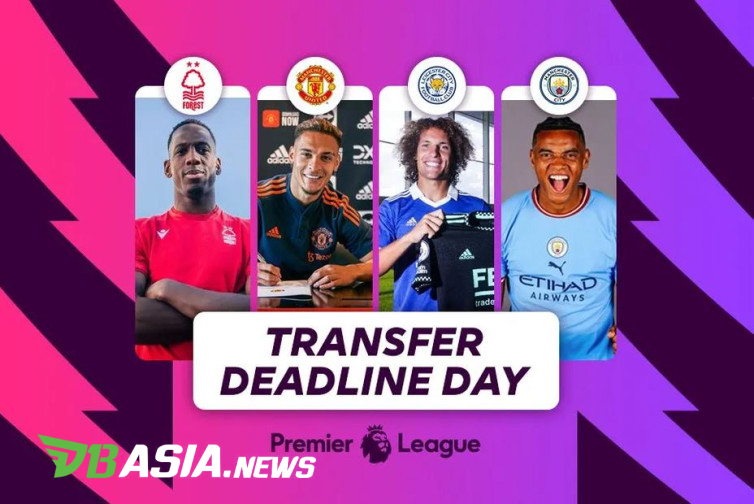 DBasia.news – Finally, the 2022 summer transfer market has officially closed. There are not many surprises that occur on deadline day, except for transfers made by big Premier League clubs.
Manchester City, Liverpool, Chelsea and Manchester United were active until the last day of the transfer market by recruiting new players. The 2022 summer transfer market is quite interesting after in the previous two editions, clubs did not dare to stretch out because of the finances affected by the corona virus pandemic.
On the deadline Man United broke the record for the most expensive transfer of all time, when signing Antony from Ajax Amsterdam for £82 million – 100 million euros with details of 95 million euros plus 5 million bonuses.
That puts Premier League clubs' transfer spending this year at £1.9bn, breaking the 2017 record of £1.4bn. It's clear that figure exceeds any other European league.
Nine out of 20 clubs spend more than £100 million on signing players. At the same time, another record was also carved in the summer of 2022, namely:
1. Spend more on transfers for Premier League clubs than the Spanish LaLiga, Italian Serie A, and German Bundesliga when combined.
2. Chelsea have spent more money on transfers in one transfer window than any other club in Premier League history.
3. Manchester United broke their personal record in player spending in the summer.
4. Nottingham Forest have signed more players in a single summer transfer window than any other English club of all time.
The combined spending of the 20 clubs during the transfer window, which opens from June 10 to September 1 (local time), was 67 per cent higher than the previous summer's total of £1.1 billion.
According to financial services firm Deloitte, the 2022-2023 season has seen the highest transfer spending since the two transfer window seasons began, and that was before the January transfer window of this season took place, exceeding the previous record of £1.86 billion set in 2017-18 of 3 percent.
"The record spending levels during this transfer window are a clear indication of the confidence of Premier League clubs, as fans return to stadiums and a new broadcast cycle begins," said Tim Bridge, lead partner at Deloitte Sports Business Group.
"It is now an integral part of the Premier League that clubs are willing to pay significant sums to maximize performance."
"This season, the desire to acquire playing talent has reached a new level as the pressure for clubs to stay in the competition is higher than ever."
Recruitment on Deadline Day
14 of the 20 Premier League clubs have signed at least one player on deadline day. Examples include Manchester City who brought in Swiss defender Manuel Akanji from Borussia Dortmund and their city rivals, Man United, signing Antony and Martin Dubravka.
Liverpool managed to overcome the need for a midfielder by signing Arthur Melo from Juventus. Likewise, Chelsea brought in Pierre-Emerick Aubameyang and Denis Zakaria.
The Most Extravagant Club
Todd Boehly's new era at Chelsea was marked by the fact that the club was at the top of the most extravagant clubs, in terms of spending in the summer transfer market. From data on Transfermarkt, Chelsea spent 251 million pounds.
The players they signed were Raheem Sterling, Kalidou Koulibaly, Wesley Fofana, Pierre-Emerick Aubameyang and Denis Zakaria (on loan).
Under Chelsea is Man United with an expenditure of 214 million pounds, signing the likes of Tyrell Malacia, Christian Eriksen (free), Lisandro Martinez, Casemiro, Antony and Dubravka (on loan).
Six clubs with the most spending in the 2022 summer transfer window:
1. Chelsea – £251 Million
2. Manchester United – 214 Million Pounds Sterling
3. West Ham United – £163 Million
4. Tottenham Hotspur – £152 Million
5. Nottingham Forest – £145 Million
6. Manchester City – £125 Million
Nottingham Builds New Team
Returning to play in the Premier League for the first time since 1999, Nottingham Forest clearly do not want to go back down to caste. The club that won two Champions League titles in the Brian Clough era practically built a new team in the summer of 2022.
Just imagine, Steve Cooper's team recruited 21 players and spent £145 million – breaking the record for the most signings of English clubs in one season. The previous record was held by Crystal Palace in 2013 signing 17 players, also with Livingston (2001) and Dundee United (2000) signing 19 players.
Some of the names that are quite well known in Europe are Jesse Lingard, Dean Henderson, Renan Lodi, and Remo Freuler.