Tuesday, 7 January 2020
Real Madrid Wins a Landslide Victory over Getafe
By db-admin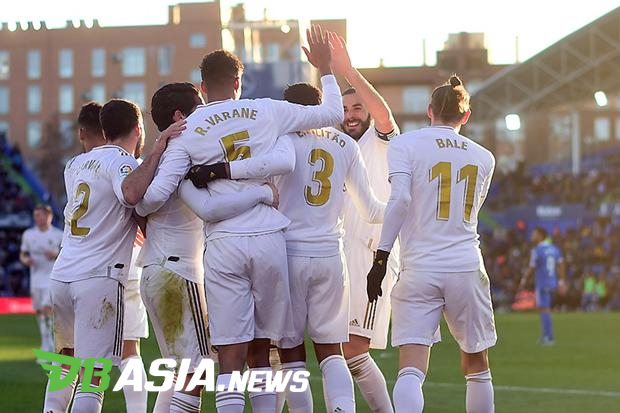 DBasia.news –  Victory was achieved by Real Madrid in the early 2020 when playing at the Coliseum Alfonso Perez, Getafe headquarters, in the continuation of the LaLiga match.
Real Madrid coach, Zinedine Zidane, played his flagship 4-3-3 formation. Karim Benzema was at the center of the attack with the support of Gareth Bale and Isco from both sides of the wing.
It wasn't easy for Madrid to penetrate Getafe's defense. Moreover, the host's midfield driven by Marc Cucurella also provided fierce resistance.
In fact, Getafe almost broke into Madrid's goal in the 24th minute. Mauro Arambarri released an accurate pass to Leandro Cabrera. The defender greeted the ball with a volley kick. Luckily, Thibaut Courtois was still swiftly dismissing the ball.
Real Madrid was finally able to break into Getafe's goal in the 34th minute. Benjamin Mendy's bait leads into the penalty box.
At that time, there was struggle between Raphael Varane, several Getafe players, and David Soria. The goalkeeper who intends to dispel the ball actually directed it into the goal itself. Soria scored an own goal.
Near the end of the first half, Courtois made two important saves. First, the former Chelsea goalkeeper managed to stop Faycal Fajr's kick. Next, Leandro Cabrera's header was secured by the Belgian national team goalkeeper. Madrid closed the first round with a 0-1 advantage.
Madrid started the second half well after scoring in the 53rd minute. This time, Varane listed his name on the scoreboard after goring Toni Kroos's pass. The goal was reviewed by VAR. After waiting a few moments, the goal was passed.
Not wanting to bear the shame, Getafe increased on attacks. Cabrera threatened Madrid's goal in the 64th minute. However, the kick still raised above the crossbar.
Winning two goals, Zidane tried to enter in new energy. Faderico Valverde replaced Toni Kroos, while Isco is replaced by Vinicius Junior.
Courtois returned to display actions under the crossbar. Arambarri released a low pass to the near post. Jaime Mata was ready to grab the incoming ball. However, Courtois was able to stop the ball.
Getafe continued to launch attacks to reap victory. However, from all the chances that were created, no goals were scored.
Real Madrid actually scored the third goal through Luka Modric in the 90th minute + 6. The goal began with a quick counter-attack driven by Valverde. Los Merengues also closed the match with a 0-3 advantage.
The additional three points has put Real Madrid at the top of the standings by collecting 40 points. Los Blancos's position was still be shifted by Barcelona who will fight Espanyol, Sunday (5/1) AM.