Tuesday, 20 August 2019
Real Madrid's Long Wait to Be Above Barcelona
By news-admin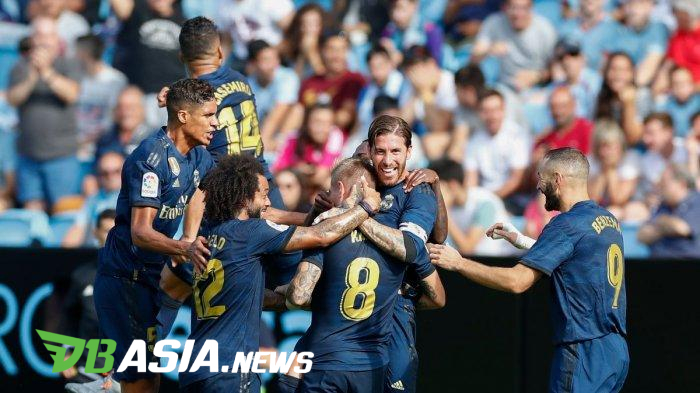 Real Madrid
DBasia.news –  Real Madrid are temporarily above Barcelona in the LaLiga standings. Certainty was achieved when El Real won a landslide victory of 3-1 over Celta Vigo in Balaidos, Saturday (17/8) evening WIB.
Real Madrid opened the scoring in the 12th minute. Karim Benzema listed his name on the scoreboard after receiving Gareth Bale's pass.
However, El Real must play with 10 players after Luka Modric received a red card in the 56th minute. Remarkably, Real Madrid was able to widen the distance to 2-0 after Toni Kroos's long-range shot in the 61st minute nested in Celta's goal.
Real Madrid got close to winning after Lucas Vazquez scored in the 80th minute. Vazquez received an accurate pass from Gareth Bale.
The host were able to score one minute during the whistle. Losada Post shot was not able to be contained by Pepe Diop. The score 3-1 lasted until the end of the game.
Thanks to that victory, Real Madrid lead the standings by three points. Meanwhile, their arch enemy, Barcelona, ​​slumped to the bottom of the board after losing 1-0 against Athletic Bilbao.
It was the first time Real Madrid had been above Barcelona in the LaLiga standings since 818 days ago. The last time Zinedine Zidane's players were in a better position than Barcelona was the 2016-2017 season. At that time, Madrid came out as champions.
In last year's competition, Real Madrid was 19 points behind Barcelona who were champions. This distance is the biggest in the history of competition between the two teams.
Next, Real Madrid will host Real Valladolid on Sunday (8/25). Meanwhile, Barcelona will receive a tour of Real Betis, at Camp Nou, Monday (8/26).