Thursday, 3 December 2020
The Story Behind Lionel Messi's Iconic Celebration
By db-admin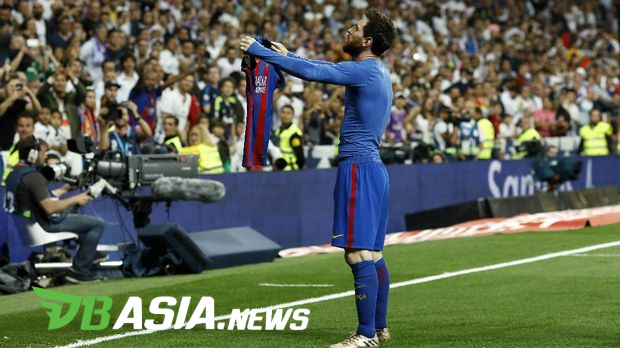 DBasia.news – FC Barcelona won the LaLiga match against Osasuna at the Camp Nou last weekend with a score of 4-0. The Blaugrana's four goals were scored by Martin Braithwaite (29 '), Antoine Griezmann (42'), Philippe Coutinho (57 ') and Lionel Messi (73').
The goals scored by Messi were even more special after seeing his goal celebration. Not by scoring goals, going past two defenders before scoring, as the public were used to seeing players of his caliber, but with emotional goal celebrations.
Messi immediately took off his first jersey and showed the Newell's Old Boys jersey with the number 10, celebrating the same as his world-famous predecessor: Diego Maradona.
Yes, Maradona recently shocked the world after being found dead at his home. Maradona died at the age of 60 and was suspected to have suffered from a heart attack after previously being hospitalized for a blood clot in his brain.
Messi was emotional about the news. Understandably Maradona is his predecessor, his former coach in the Argentine national team, and an inspirational figure for him who is often compared to the Napoli legend.
Nobody expected Messi to express the emotional celebration in honor of the legend. Maradona did defend Newell's at the end of his career in mid 1993-1994, while Messi was at Newell's academy for six years before heading to La Masia.
"I don't remember much, I was very young, but I saw Maradona on the pitch the day he made his debut against Emelec," Messi said in 2013 about Maradona's debut for Newell's in 1993.
The celebration is the best Messi can do in his own way. An emotional celebration that is understandable from a humanist side, but in the eyes of the law, violation is still a violation.
Messi was rewarded with a yellow card for taking off his jersey, then according to reports, Barcelona would be fined 3,000 euros for violating the RFEF code of conduct in article 91.
"A footballer who, on the occasion of scoring a goal or for any purpose resulting from a match change, raises his jersey and displays any kind of advertisement, slogan, legend, acronym, anagram or image, regardless of the content or purpose of the action, will be sanctioned as a serious violation with fines of up to € 3,000 and a warning. "
The amount of fine is not a problem for Barcelona. However, the existence of this regulation is questionable if you look at the humanist side of Lionel Messi's celebration.