Monday, 1 July 2019
Through A Penalty Shootout Drama, Brazil National Team Are Through to 2019 Copa America Semifinal
By news-admin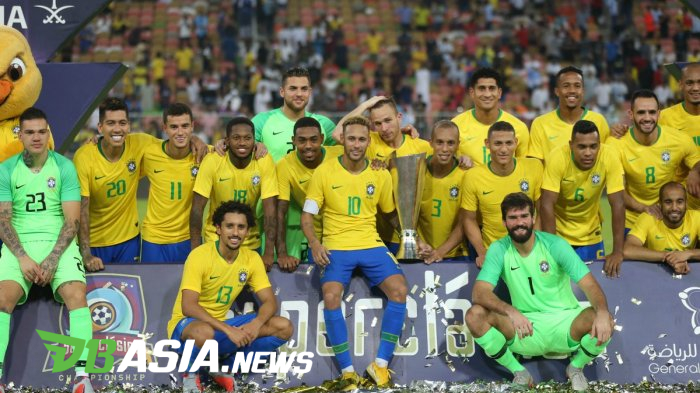 Timnas Brasil
DBasia.news –  The host of the 2019 Copa America, the Brazilian national team, successfully advanced to the semifinals after a 4-3 win over Paraguay through a penalty shootout in the quarter-finals which took place at Arena do Gremio, Friday (28/6) early morning Western Indonesian Time. Brazilian goalkeeper Alisson appeared great in the shootout.
Brazil lowered his best squad in this match. Roberto Firmino is believed to be the spearhead of the Samba team. Meanwhile, Paraguay piled up five players in defense.
Paraguay provided fierce resistance to Brazil for 10 minutes since the first whistle sounded. Several times Paraguay spread threats to the Brazilian defense.
Paraguay won a golden opportunity to excel in the 29th minute through an accurate Derlis Gonzalez kick. However, Alisson's brilliant action under the crossbar thwarted the opportunity.
Meanwhile, Brazil's efforts to dismantle the Paraguayan defense were deadlocked. The movement of Philippe Coutinho and Everton from the second line has not produced results. 0-0 score lasted until halftime.
At the start of the second half, Tite included Alex Sandro to replace Filipe Luis. Tite hopes that Sandro can bring change.
The referee had pointed to the spot after Firmino was dropped by Fabian Balbuena in the 54th minute. However, after seeing VAR, the referee considered the incident to be outside the penalty box. Even so, Balbuena got a red card.
A superior number of players makes Brazil increasingly dominate. Samba's team endangered the Paraguay goal through Arthur's kick in the 69th minute. However, the ball can still be secured by Roberto Fernandez.
Brazil again failed to score a goal after Gabriel Jesus's shot was still slightly deviated beside the Paraguay goal. Meanwhile, Everton's chances can still be thwarted by Ivan Piris. Until the end of the match, the score stayed 0-0.
The match continued to the high-tossed round. In that round, two Paraguay executioners, Gustavo Gomez and Derlis Gonzalez failed to carry out their duties. Gomez's kick was brushed aside Alisson, while Derlis's shot was still sideways.
Meanwhile, in the Brazilian camp, only Roberto Firmino which failed to execute perfectly. Now, Brazil will wait for the winner of the Argentina duel against Venezuela.
Player composition:
Brazil (4-2-3-1): Alisson; Dani Alves (Lucas Paqueta 83 '), Marquinhos, Thiago Silva, Filipe Luis (Alex Sandro 46'); Arthur, Allan (Willian 54 '); Gabriel Jesus, Philippe Coutinho, Everton; Roberto Firmino
Trainer: Adenor Leonardo Bacchi (Tite)
Paraguay (5-4-2): Roberto Fernandez; Ivan Piris, Gustavo Gomez, Fabian Balbuena, Junior Alonso, Santiago Arzamendia (Bruno Valdez 61 '); Derlis Gonzalez, Richard Sanchez (Juan Escobar 78 '), Celso Ortiz, Hernan Perez (Rodrigo Rojas 75'); Miguel Almiron
Trainer: Manuel Eduardo Berizzo